Anyone can record video with an iPhone, but it takes a real Spielberg to make a movie. That's the idea behind ReelDirector, an app for the iPhone and second-generation iPod touch that attempts to be a full-fledged movie creation tool where you add video clips and photos, and even record an audio snippet, set transitions between scenes, type in the movie credits, and render a final Quicktime movie.
Making "real" movies with ReelDirector is simple and quick, but the $8 tool from Nexvio is a little lacking in deep features.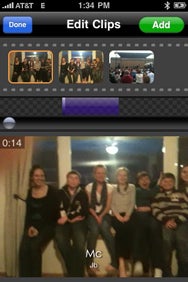 The app uses a professional approach—instead of presenting you with an initial option to record a clip or add photos or record audio, you first set the movie properties. You can name the movie and type in credits, set the default transition (say, swipe left), and set the quality to either Normal (480×360) or High (640×480). The term "high" is a misnomer because this is not exactly high-def quality and is actually normal video, the highest the iPhone supports.
Once you tap in the movie properties, you can then add existing movie clips. Strangely, there is no way to actually record a video clip unless you use the Camera app first. You can also add static images and—from within ReelDirector—record audio clips and add them; a recent update to the app also lets you import soundtrack music from your computer.
Once you add a video clip, you can create mark in and out points to edit the clip to an exact cut, such as when your subject finishes speaking—a very cool feature. The interface for this uses a jog dial that movies left and right; it's incredibly easy to use. You can also split a clip into two movies.
For any portion of your movie, you can set a transition. ReelDirector provides quite a selection of fades, wipes, pushes, and blurs. You can even set the volume for a video clip. It's easy to "scrub" (or advance through) a movie once you add media, although the video does not actually play when you scrub like it does in Final Cut or other desktop tools.
Once you are done making your epic, you can then render the movie. ReelDirector warns you that this takes time, and the app is not kidding. In a movie that had about five clips—each around three minutes or so—with a few recorded clips and several static images, the app took around 5 minutes to make the final .mov file. Once rendered, you can e-mail the clip to offload it form the iPhone. (There is an option to compress the file to reduce the size.)
No one ever claimed the iPhone was a full-blown replacement for a computer-based editing station. But companies like Nexvio keep trying to pack as much power into their mobile apps as possible. ReelDirector doesn't pretend to be Final Cut, but it does attempt to add more than you get with the built-in Camera app, allowing you to make an honest-to-goodness movie. End credits, copyright notice, transitions—they are all intended for more than just goofy YouTube antics.
In that sense, ReelDirector is a bit lacking. It just doesn't have the advanced features a pro tool needs, such as special effects and the ability to record a video right from the app or support for pro file formats, such as DivX. However, ReelDirector does provide a great feature set for making a basic movie, whether you are into YouTube or not.
[John Brandon is a freelance technology writer based in Minnesota.]