Update: Quattro Wireless vice president Andy Miller has confirmed in a blog post that Apple has acquired the company.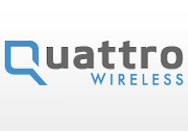 Do you wish Apple would provide you with mobile, targeted information which connected you with great products and services? Well, now there's an ad for that.
Kara Swisher at the Wall Street Journal reports that Apple is poised to buy Quattro Wireless for a reported $275 million, which is about 1.2 percent of the cash Apple has under its mattress. If "Quattro" only reminds you of the Quattro Pro spreadsheet or the Mac Quattr… er, Quadra, the Quattro Wireless website will tell you that they are "the leading global mobile advertising company, empowering advertisers and publishers to reach and engage their target audiences."
I'll pause here for the standing ovation from millions of MacBook and iPhone fans who are thrilled about Apple moving into the mobile advertising space. *crickets* Yes, that's what I thought. Don't worry—I don't think this means that Apple is going to be bombarding users of existing Apple hardware with advertisements.
I can't say that my ability to predict Apple is anywhere near perfect, but I find the timing of this announcement to be rather interesting. In three weeks, Apple has a media event scheduled where many are expecting to see the Jobs stork arrive with a bouncing baby tablet. And back in October, Apple received a patent on an OS with embedded advertisements. That application included screen captures which were obviously generated on Mac OS X, which not only kicks the speculation door wide open, but also burns it to the ground. It's not hard to see a powerful business combination between a new platform, an advertising OS, and owning the company that provides the ads. This wouldn't be Apple's first attempt to dive into the ad pool, either; the company also reputedly wanted to purchase mobile ad maven AdMob, only to have it snatched out from under its nose by Google.
So while I can't honestly say that I expect to see a particular hardware combo later this month, I have a few guesses. iPhones are subsidized by the much-hated two-year contracts with AT&T; advertising might be another way of providing that subsidy. Perhaps more interesting, though, is the wave of e-book readers hitting the market which come with lifetime 3G subscriptions included in the base price. With an advertising revenue stream to support it, do you think there might be a market for an Apple tablet which costs a bit to buy, but has unlimited free connectivity forever after? Yeah, me too. Heck, I think there might even be interest in a white MacBook that ships with the same deal.
One thing's for sure: the next few weeks between the Consumer Electronics Show and Macworld Expo are going to be very interesting.