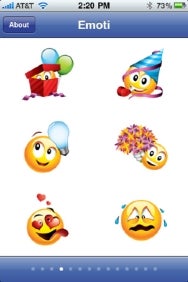 How many times has this happened to you? You're working on a Facebook wall post from your iPhone, and you realize that it's sorely lacking in emoji-inspired graphic emoticon imagery.
Thanks to the recent launch of Emoti For Facebook, you'll never encounter that nightmare scenario again.
Instead, you'll just fire up the the $2 app, compose your post, and choose from more than 70 well-drawn faces: faces with winks, faces with drinks, faces that are sobbing, faces with hearts throbbing, faces that are grey and blue, and faces that are drawn on…excrement. And there's also a soccer ball, because—why not?
Emoti For Facebook requires iPhone OS 3.0 or later. If your aim is to become the envy of all your Facebook friends, and your friends tend to be impressed by emotive icons, this may be just the app for you.