Editor's Note: The following article is reprinted from the Today @ PC World blog at PCWorld.com.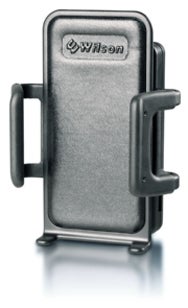 No matter what carrier you're on, you've likely encountered a cell phone dead zone. This is especially a burden while on the road if you're lost in a rural area and have no way of calling for directions or accessing your GPS. Luckily, there's a solution: The Wilson Sleek all-in-one cell phone signal booster. This handy gadget resembles a hands-free car cradle, but offers extended calling range and signal strength for your phone.
Measuring 4-by-2-by-1-inches, the Sleek cradle is the smallest cell phone booster in the company's product line and works with a variety of phone models including hot smartphones like the iPhone 3GS and the Motorola Droid. And while it is designed to work in your vehicle, you can also use it in your home or office with an optional accessory package (price TBA).
Cell phone signal boosters have traditionally been on the pricy side; Wilson's SignalBoost Mobile Professional Amplifier Kit costs around $200. But according to Wilson, the Sleek is the most inexpensive signal booster the company has ever produced. While the final price hasn't been confirmed, Wilson says that it will cost less than $130—and quality won't be compromised.
Wilson says that the Sleek's technology is the same as you'd find in the company's largest boosters. It supports CDMA and GSM networks, but won't work with Nextel's iDEN network (Wilson offers Nextel-supported products, however).
If you're still not sold on the usefulness of cell phone boosters, check out DeadCellZones.com. This consumer-generated site shows a map of indoor and outdoor cellular coverage problem locations across the United States. The one downside to this booster is that you can't take it with you on foot. But if you spend a lot of time on the road and frequently travel through dead zones, $130 is a small price to pay for avoiding dropped calls and slow 3G speeds.