Editor's Note: The following article is reprinted from the Today @ PC World blog at PCWorld.com.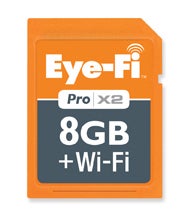 Eye-Fi has announced a re-engineering of its Eye-Fi card wireless SD Card that should make these niche cards more appealing. When I last reviewed Eye-Fi, the experience was hampered by slow upload speeds, and minimal memory. (Those cards maxed out 4GB, which feels downright paltry compared with the 16GB and 32GB SD Cards now readily available.)
The Eye-Fi line of SD Cards allows you to use 802.11 wireless networks to transfer images stored on the cards to a nearby PC or to a photo sharing Website, eliminating the need to remove the card from the digital camera.
The Eye-Fi Pro X2 has an entirely new design-and boost capacity to 8GB. The card integrates an 802.11n radio and a new antennae for improved photo and video upload speeds, and better Wi-Fi range. The card can handle JPEG, RAW, and video uploads, directly to a computer or Web site. You get hotspot access at over 10,000 locations in the U.S., and it provides for automatic geo-tagging, so you'll always know where a particular photo was captured. A new mode dubbed Endless Memory so that once you safely upload files, the card will automatically delete the oldest files for you to make room for more.
The card will sell for $150, and is available for pre-order. You're still paying a premium, but the added capacity and functions justify the price.