Editor's Note: The following article is reprinted from PCWorld.com.
The 2010 Consumer Electronics Show is likely to be a slightly showier affair than last year's event—now that the economy seems to be convalescing and product development and marketing purse strings have loosened somewhat. Judging from the preshow chatter, this year's show should be the venue for a wave of newsworthy product announcements—and it may deliver a few surprises along the way, too.
Read more of our coverage of CES 2010.
After the barrage of preshow product pitches and chats with industry insiders, our beat editors have a fairly good idea of what we'll encounter in the major product categories this week in Las Vegas. We asked each editor to summarize the major trends and key products they anticipate seeing in their product areas at CES.
Notebook and Desktop PCs
With Intel and Nvidia providing vastly improved integrated graphics systems, you can expect machines to come to market that are capable of piping out high-definition video and audio with ease. And while the vaunted tablet design may not advance beyond the conceptual stage until mid- to late 2010, more netbooks and notebooks will sport touch-friendly displays, courtesy of Windows 7's support for multitouch.
The humble desktop is poised for a comeback, but gone are the days of the classic beige box. In 2009, new designs clambered into the mainstream and provided a much needed boost for the desktop's languishing image. Ultracompact netbooks like the Acer Aspire Revo R3610 bring the home-theater experience at a fraction of the size (and price), while all-in-ones like the Sony VAIO L117FX/B condense a traditional PC's components into a single, elegant shell.
We expect to get first looks at smaller, slimmer designs at CES, with the latest and greatest chipsets from Intel and nVidia inside the shell. Netbooks will offer improved media playback, whether you're streaming from Hulu or watching a film in Blu-ray format. All-in-ones will support the full breadth of Windows 7's multitouch and Aero offerings without being sluggish, skimping on features, or jolting buyers with sticker shock.—Nate Ralph
HDTVs
At last year's CES, we saw 3D displays from various companies, but they were mostly a novelty. This year, recent developments suggest that HDTV manufacturers are making a big 3D push. New 3D technologies, such as the upcoming HDMI 1.4 specification and the recently-approved Blu-ray 3D, are on the way. Both could help make 3D television more common. You'll need a 3D TV to get the most out of Blu-ray 3D, for example; and the 2010 World Cup soccer tournament will be broadcast in 3D.
Also, expect the shift toward refresh rates of 120Hz, 240Hz, and possibly higher to continue: LG demonstrated a 480Hz LCD prototype at last year's CES, so we might see some 480Hz HDTVs introduced at this year's show. Green and thin are also in, se we'll likely see an increase in the number of LCD TVs that use LEDs for backlighting. LED backlighting is more energy- and space-efficient than traditional fluorescent (CCFL) backlighting, and LEDs can allow for local dimming—that is, you can dim portions of the backlight to make dark areas of the TV's picture look darker—which permits higher contrast levels.—Nick Mediati
Blu-ray players
We expect Blu-ray Disc to continue its successful march forward, this time with the announcement of players capable of supporting the newly finalized 3D Blu-ray specification. The good news about 3D Blu-ray is that the new discs will be backward-compatible with 2D players. The bad news is that to get 3D playback, you'll need a new player and a new HDTV that support 3D (the Sony PlayStation 3 will support 3D Blu-ray through a firmware upgrade).
Though 3D players are clearly on the roadmap, plans for Blu-ray Disc recorders remain uncertain. Blu-ray recorders with TV tuners have been available in Asia for some time now, but vendor roadmaps in the United States continue to omit them (purportedly because of the numerous copyright restrictions broadcasters and studios would impose on such devices). JVC announced a professional recorder last fall, but that $2000 model lacked a TV tuner—which means that you wouldn't be able to record the Vancouver Winter Olympics in high-def.
More Blu-ray players should gain connectivity in the next year, too. We expect BD-Live to be de rigueur on all but the most inexpensive models, and that more value players will support Web-based streaming services like YouTube and Netflix on Demand.—Melissa Perenson
Cameras and camcorders
Pocket camcorders: Now that the public has accepted the Flip design, we should see a jump in specs and features in the next year: higher-quality optics, wireless sharing and uploads, more in-camera settings, optical zoom lenses, and 1080p video captured at higher-bit-rate AVCHD formats.
At CES we expect to see point-and-shoot cameras adopting some of the marquee features of pocket camcorders, too: hybrid portrait/landscape capabilities that enable the shooter to reposition the camera for shooting stills or video, and built-in USB connectors that simplify file uploads and sharing.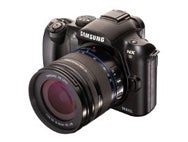 Interchangeable-lens cameras: At CES we'll see smaller, more feature-packed interchangeable-lens cameras that offer large sensors, great still and video quality, and the flexibility to use different lenses in a relatively compact camera. These devices will begin to reach the U.S. market in the first half of 2010.
On the digital SLR side of the spectrum, you can expect to see high-definition video capture become nearly ubiquitous. Last year HD video recording crept into the feature set of DSLRs from Nikon, Canon, and Pentax; and DSLR still cameras became a viable option for professional videographers and independent filmmakers. Expect this trend to continue in 2010, possibly paving the way for redesigned DSLR bodies that make shooting video easier.
TransferJet and Wi-Fi Direct: Most current cameras require a separate USB cable for sharing and offloading photos and video. We've also seen a number of Wi-Fi-enabled devices in the past year, but wireless file transfers may get a serious boost this year from devices that work with TransferJet and Wi-Fi Direct. Both technologies support wireless, peer-to-peer sharing between compliant devices, though the logistics differ a bit. What does it mean for consumers? USB cables may be gone for good very soon.—Tim Moynihan
Mobile phones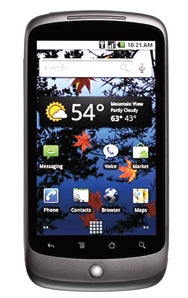 Mobile phone news tends to be a bit quieter than other electronics categories during CES, as vendors look forward to the Mobile World Congress coming up in February and CTIA following in March. Even so, some big news is in store for CES. As this article went live, Google was briefing reporters on its Google Nexus One. Don't expect any announcements regarding the rumored T-Mobile subsidy relationship, however. Leaked specs confirm that the Nexus One is compatible on the T-Mobile network, but T-Mobile won't be at CES and representatives have informed PCWorld that the company has no announcements planned for the show.
Meanwhile, LG and Sprint certainly have something up their sleeves. The companies have issued invitations to the media for the same event, advertising that Sprint CEO Dan Hesse and Microsoft CEO Steve Ballmer will be attending. If Microsoft weren't involved, I'd have guessed that the announcement related to LG's entrance into the Android world. LG may indeed be launching an Android phone at CES, but the spotlighted event is more likely to mark the unveiling of an LG-manufactured WiMax-capable Windows Mobile phone.
Palm's press conference this year probably won't be as splashy as the Pre/WebOS affair of 2009, but the company will still have some interesting news to impart. As Sprint's exclusive rights to the Pre and the Pixi come to a close, the phones will likely debut on other carriers—in particular (according to the rumor mill) Verizon. Palm will probably announce an updated version of WebOS, as well.
Samsung and HTC are likely to introduce a few Windows Mobile phones—and possibly even some Android goodness—at CES. The most anticipated Windows Mobile phone, the HTC HD2, is rumored to be coming to T-Mobile in March, so HTC might announce an unlocked U.S. version at CES.—Ginny Mies
Wireless Networks
Two of the four major wireless service providers—AT&T and Sprint—are appearing at this year's CES, while the other two—Verizon and T-Mobile—aren't holding any events or meetings. AT&T is hosting an all-day event for mobile app developers, at which several AT&T Mobility executives will discuss mobile devices that are designed to run on the AT&T 3G network and are scheduled to arrive in coming months.
Sprint will also talk about new mobile devices at CES. The carrier is holding several events where it will talk up its leadership position in rolling out the nation's largest real 4G (WiMax) services through its partner Clearwire. The Clearwire network now serves nearly thirty cities, up from just two cities at the beginning of 2009. Sprint may also use the event to announce plans for a new kind of smartphone that will run on both its 3G network and Clearwire's WiMax network.—Mark Sullivan
GPS and car tech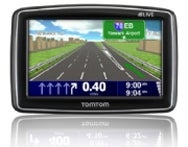 Garmin and TomTom have kept a low profile about their CES plans so far, promising to show their lineups of navigation devices but not hinting at any fresh ideas. Though we could be in for a major snoozer from these GPS giants, perhaps big surprises are in store regarding the category's efforts to beat mobile phones and apps such as Google Maps Navigation, not to mention netbooks and tablet devices. A CES panel discussion that includes executives from TomTom, Garmin, and Nokia may shed light on what's to come.
Count on the intersection of Internet and automobile to take a big chunk of car tech's CES buzz. Ford will deliver a keynote, no doubt to hype additions to its Sync platform, such as the ability to plug in a 3G USB modem and turn Ford cars into Wi-Fi hotspots. Pandora has big plans to storm automobiles in the years ahead. The first step is to develop stereo systems that act as dashboards for mobile-phone Pandora apps—and Alpine is up for an award in car audio innovation for doing just that. How long will it be until Web-connected cars can tap Internet radio and other services without the mediation of a phone? A panel discussion may provide insights about the likely timetable.—Jared Newman
Home Networking
At this year's CES, the traditional home-networking companies like Belkin, D-Link, Linksys, and Netgear will focus less on faster wireless routers, and more on home-entertainment-oriented products. The 802.11n wireless standard finally won approval in late 2009, but router makers had already embraced the standard and launched "wireless N" products, so you won't hear much talk about the new standard in Las Vegas this year.
The Internet video revolution is well underway, and consumer networking companies are competing to find the best way to get pull audio and video content from the Internet or from a computer's hard drive—collecting, cataloging, and managing it, and sending it to screens large and small around the home. Such products connect directly to the Internet to access (and to play or store) Net video, and they also locate and organize Net video from devices throughout the home network.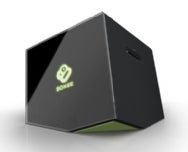 These devices were a big theme at last year's show, but this year you'll see more actual product announcements and debuts, including numerous new Net video set-top boxes and lots of upgrades to existing boxes. Many of these products will have reinvented user interfaces, will support more file types, and will be much easier to set up and use. For instance, D-Link will show off its new Boxee box, which comes with the popular video management software inside and supports a long list of Net video file types.—Mark Sullivan
Storage
The big news at CES 2010 will be about storage that uses USB 3.0. The new, faster USB interface promises high-speed transfers, and storage will be the first peripheral to take maximum advantage of it. Buffalo Technology has already jumped into the game with a drive, but we expect an avalanche of USB 3.0-related announcements at the show.
USB 3.0 traveled a long and bumpy road to market, and some of the early implementations may require a third-party add-in card—much as happened in the earlier transition from USB 1.0 to USB 2.0. Two motherboards are now available with USB 3.0 support, but the interface is not yet widespread.—Melissa Perenson
Keyboards, mice, and remote controls
New input devices debuting at CES emphasize ergonomics. Smartfish is introducing a new product based on its ErgoMotion technology (already available in the company's ErgoMotion Keyboard and ErgoMotion Mouse). Designed to relieve stress from repetitive motion, the new peripheral automatically adjusts to the user's natural hand and wrist positions for more-comfortable computing.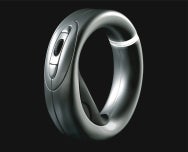 Hillcrest Labs has received a 2010 CES Innovations Award for its Loop pointer, a loop-shaped "air mouse" designed as a pointing device for a computer connected to a TV. The company's Freespace motion control and pointing technology also appears in other devices and partner products that will be on display at CES.—Peggy Watt
Audio
Appealing audio offerings are all over the map this year. High-end audiophiles will delight in Definitive Technology's XTR-50 speakers, which flank your HDTV and have a depth of just 1.5 inches off the wall. For people who rank practical convenience above sound fidelity, Myine's Abbee FM radio automatically deletes commercials and DJ talk from radio stations. And for those who want surround sound but can't accommodate a six-speaker rig, Coby is launching a 3D audio sound bar that shapes stereo output to emulate the surround-sound experience.—Jared Newman
Green tech
An expanded Sustainable Planet Spotlight section on the CES floor this year will feature some three dozen exhibitors, and many other vendors will highlight energy-efficient products—notably TVs—as well. Ecologically friendly products slated to appear at CES range from a Sanyo electric bike to energy-monitoring systems for home and business.
Teridian Semiconductor will show its smart energy meters for home users and for inclusion in smart appliances and power supplies. GreenPeak will demonstrate its sensor technology for low- and alternative-power, low-maintenance wireless networks. Embertec will present what it calls the first fully automated digital power-saving technology.
Green Plug is announcing several new partners for its Greentalk technology, which enables various electronics to communicate over power sources, to monitor energy consumption, and to run more efficiently. Another maker of power management products, iGo, will show its line of universal chargers and other devices equipped with its iGo Green Technology, which regulates and minimizes power consumption.
The Sanyo Synergetic Hybrid Bicycle, nicknamed the "eneloop bike," allows riders to generate power while coasting or braking. It has received a CES Innovations 2010 Design and Engineering Award in the Eco-Design and Sustainable Technology category. The 26-inch bike has a motor and electrical system, too, and it adjusts to provide assisted power in difficult terrain.—Peggy Watt