Earlier today, WD announced the latest (and fastest) member of its popular My Book external drives, the My Book 3.0. The drive is available now in a 1TB configuration.
As the name implies, this drive features the new SuperSpeed USB 3.0 interface.
USB 3.0, just starting to appear in products aimed at PCs, offers transfer rates of up to 5 Gbps. USB 3.0 is backwards compatible with USB 2.0, but will operate at slower USB 2.0 speeds—rated at 480Mbps.
USB 3.0 is not currently supported on the Mac and Apple has not made public any plans on if (or when) the new connection type will be supported by the Mac OS.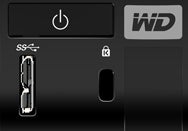 The My Book 3.0 has a single USB 3.0 connector and is NTFS formatted. WD offers the drive with a PCIe (gen 2) USB 3.0 card and Windows drivers. A 1TB model with the PCIe card costs $199. The 1TB My Book 3.0 without the card is $179.
The WD My Book 3.0 is covered by a 2-year warranty and a 2TB configuration should be available later this week.