Editor's Note: The following article is reprinted from the Today @ PC World blog at PCWorld.com.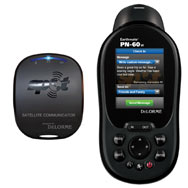 The best GPS products are those that stay a step ahead of mobile phones, much like a new device from Delorme and Spot that will be on display at CES 2010 this week. The DeLorme Earthmate PN-60w with SPOT Satellite Communicator is a GPS device that works with a satellite communicator, sending custom text messages from beyond the reach of cell phones.
The gadget, which combines Spot's Satellite Communicator with Delorme's hardware, is designed with hikers and other remote adventurers in mind. In places where cell towers don't exist, the device can send text messages, contact emergency services, and pinpoint its exact location for others. But it's not just an emergency device; the PN-60w also lets users update their location through social networking services, including Facebook, Twitter, SPOTadventures.com, and Geocaching.com.
On its own, the PN-60w has a 32-channel GPS chipset, a dual-core processor, 3-axis electronic compass, sensitive barometric altimeter, elevation profiles, and GPX file transfers.
Pricing wasn't revealed, but Delorme's existing PN-40 starts at $350. I'm curious to know how service costs will compare to Spot's existing messenger, which sends basic emergency aid requests and location updates for $99 per year. The PN-60w and satellite communicator will be available in the spring.
DeLorme and SPOT have other products on tap for CES 2010 that combine GPS and satellite communications, which we'll be checking out as the show gets underway.
Read more of our coverage of CES 2010.