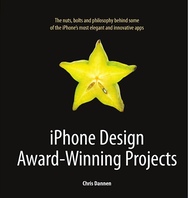 Interested in writing a successful iPhone app? Don't worry, you're certainly not alone. Publisher Apress, Inc might have a little something to help out, a book called iPhone Design Award-Winning Projects.
This book takes a careful look at five of the six iPhone apps that won an award during the 2009 Apple Design Awards, with each of its core chapters focusing on a major challenge that each app had to overcome. Each of the profiles on the ADA-winning apps are composed from interviews with the developers and they feature analysis, source code, and screenshots taken from the developers' blogs or created for the book itself.
Each of the five profiles are backed up by an interview with a successful developer who did not win a 2009 ADA but had to confront a similar challenge. Alas, no other award seems to count in this book. We apologize to any Eddy winners who may feel left out.
To wrap things up, the book concludes with a sixth core chapter on design patterns, upgrading, and the App Store. You know, the dull, frustrating stuff that every developer has to deal with sooner or later.
There's no guarantee that this book contains the special sauce to make every iPhone app a guaranteed success, as even veteran developers are still trying to figure that out. However, it may provide just enough information and inspiration to get would-be developers thinking about the next big thing. If nothing else, it's always fun to hear how developers think. The print version costs $40 and the e-book version will set you back just $28.