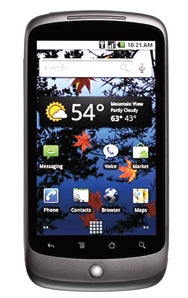 As expected, Google announced its new Android-powered Nexus One handset on Tuesday at an event on the company's Mountain View campus. But the event itself was precious short on actual surprises, especially given that Engadget had posted its full review of the Nexus One on Monday.
For those of you who step away from your RSS reader or Twitter feed from time to time, allow me to distill the news for you like the finest Scotch whisky. The Nexus One is an HTC-produced Android touchscreen handset with a 1GHz processor, 512MB of RAM, 512MB of ROM, and an included 4GB SD card (expandable to 32GB of memory). It's being sold for $529 on its own or $179 with a two-year service contract from T-Mobile; versions for Verizon in the U.S. and Vodafone in Europe are coming this spring. (In theory you can plug an AT&T SIM card into the Nexus One, but since AT&T and T-Mobile use different frequency bands for 3G, you'd only be able to use EDGE for data.)
Rumors of the Nexus One's existence had prompted, as with every new smartphone in the post-iPhone era, talk of its being an iPhone killer. While the Google crew shied away from stating as much during today's press conference, saying merely that choice was good, they did describe the Nexus One as a "superphone" (with a straight face, no less!). When asked to tease out that description, Google execs pointed to the high-powered CPU, gigabytes of storage, and downloadable apps.
Sound like anybody you know?
So, is the Nexus One an iPhone killer, then? The idea itself is ridiculous: no company wants to define its product in terms of another company's product, much less admit that the other's is superior and it's playing catch up.
But an iPhone competitor? Surely. Then again, the same was said about the Motorola Droid, the Palm Pre, and the T-Mobile G1. And yet those devices have done little more than squabble amongst themselves for second-place, while the iPhone itself has remained floating serenely above the fray. Look no further than Tuesday morning's cool and collected announcement that the company's App Store had topped three billion downloads.
There's really nothing revolutionary about the Nexus One. It looks like any other touchscreen phone, it runs more or less the same Android software as its siblings like the Droid and Eris (with a few tweaks such as dictation throughout the OS), and it's still largely tied to the same provider-centric distribution model.
What is more interesting is the weight that Google itself has thrown behind this device. Android was originally pitched as a key component of the Open Handset Alliance, a consortium of technology companies and wireless providers. By putting its name on the Nexus One, Google has given the Nexus One a sort of primacy on the Android front, unifying the disparate elements of the Android movement: now it's Google going head to head with Apple, not a strange amalgam of Google, Motorola, and Verizon. It's as if Google has promoted itself to head of the Rebel Alliance opposing Apple's Galactic Empire.
The Nexus One may be the best Android phone yet, as a friend who had used one said to me during Google's event, but mainly what sets it apart from its predecessors is Google's name on the back and the fact that you buy the phone through Google, rather than having to wrestle with the arcane procedures of a wireless provider—a page taken from Apple's own book.
Of course, Google still has a lot of catching up to do. Those three billion app downloads and more than 100,000 app catalog are a huge head start for the iPhone, not to mention the tremendous amount of mindshare Apple's device holds in the smartphone—or, if you prefer, superphone—market.
From 35,000 feet, then, the Nexus One looks more like another chess move in Google and Apple's nascent battle for dominion of the technology industry. Google creates a desktop OS, Apple buys a mobile advertising company, Google releases its own branded cell phone. With a rivalry that stretches to the far reaches of the imagination, where the two clash over unreleased tablets, 2010 looks to be filled with head-to-head conflict between the two companies—and in that fight, the Nexus One is little more than a pawn.