Perhaps as interesting as describing Google's Nexus One, unveiled on Tuesday, is examining what the phone isn't.
Google introduced the much-hyped phone on Tuesday during a press event at its Mountain View, California, headquarters. The Nexus One was expected to be the long-awaited "Google phone," the so-called device that would be designed, branded and sold by Google. The Nexus One seems to meet two of those three.
"It's inaccurate to say that Google designed the phone," said Andy Rubin, vice president of engineering at Google, when pressed during a question-and-answer session following the unveiling of the phone. "It's Peter's work," he said, referring to HTC CEO Peter Chou. "We're just merchandising it online in our store."
Before the floor was opened for reporter's questions, Mario Queiroz, vice president of product management, had said "the phone was designed in close partnership with HTC."
However it was designed, without the merchandising component, the development of the Nexus One sounds quite similar to many of the previously released Android phones.
"It's not a change in the way Google's doing business, except for the sales channel," said Avi Greengart, an analyst with Current Analysis. "In that respect, it's a direct successor to the G1 and the Magic," he said, naming two previously released HTC Android phones.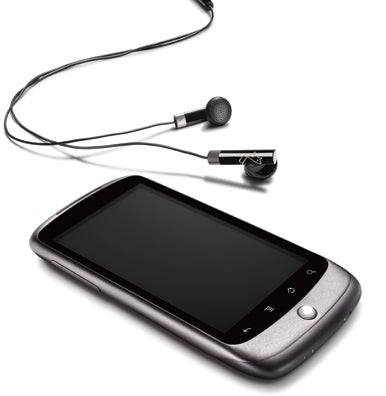 Google plans to include additional phones made by other manufacturers into the store in the future, executives said.
Also, while the Nexus One is being sold unlocked, it is essentially a T-Mobile phone, at least initially. Customers can buy the Nexus One at a discounted price with a contract on T-Mobile's network. If a consumer buys the phone unlocked for $530, the customer can use the phone on AT&T's network, but without access to the high-speed 3G network. The phone can't be used on Verizon Wireless' or Sprint's network currently.
The Nexus One also won't support tethering, a much sought after feature. Rubin said the lack of tethering isn't a technical issue but a business issue. That could mean that operators are pressuring Google not to allow it for fear of overloading their networks.
The Nexus One also doesn't support multitouch, like its competitor the iPhone, even though Android software supports it. Rubin wouldn't be drawn on why, saying only that Google will consider adding it.
The phone does not come with any innovative pricing plans like some people had hoped. For instance, there was some speculation that Google might offer some kind of discounts in exchange for displaying ads to users.
When asked about pricing models, Rubin bristled at the description of the offered pricing models as boring. But he hinted that more options might come. "One thing we're good at at Google is iterating," he said. The first step was to get the online store up and running, from there the search giant can add more ideas.
The Nexus One also won't be available, at least initially, for consumers to examine in a store before buying. Google is going with an online-only model at least at the start, a model that has proved challenging to other mobile phone makers in the U.S.
"Google is seemingly intentionally limiting sales by only selling online," Greengart said. "That's not how U.S. consumers shop." Nokia has tried and largely failed to sell phones primarily online in the U.S.
Still, to most consumers who aren't considered "digirati," the Nexus One probably will look like a great option, Greengart said. "The combination of technologies at its price point when subsidized is very competitive," he noted. The Nexus One costs $179 with a T-Mobile contract.
The differences between it and the Droid, however, come down to processor and screen. The Nexus One has a very fast 1Ghz Snapdragon processor and a slightly better screen than the Droid. The Nexus One also has updated software, but they are relatively modest.