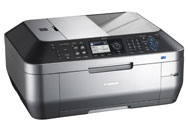 It's been a busy day for Canon. First, the company revealed new HD camcorders. Then Canon introduced new point-and-shoot cameras. For the trifecta, Canon has unveiled four new inkjet printers. Three of the new printers are multifunction devices, while the fourth is a inkjet photo printer.
The new Pixma MX870 ($200) sits atop Canon's office line of inkjet multifunction devices. It uses five individual ink cartridges (black, pigment black, cyan, magenta, and yellow) and has a 150-sheet auto-sheet feeder, a 150-sheet paper cassette, and a 35-page automatic document feeder. The MX870 has a color maximum print resolution of 9600 by 2400 dpi, and a black-only resolution of 600 by 600 dpi.
Canon has adopted the ISO Productivity Standard for measuring print speed, so print speeds are stated in images per minute (ipm) instead of the more-familiar pages per minute (ppm). Unfortunately, many other printer companies have yet to adopt the ISO methodology, so it's difficult to compare speed ratings. For what it's worth, Canon rates the MX870 at 8.4 ipm for black, and 6.1 ipm for color.
You can connect the MX870 to a network using the device's ethernet port, or with the built-in Wi-Fi. The MX870 has PictBridge, memory card slots, and a USB port for directly connecting to a Mac.
The MX870's 8.5-by-11.7 (48-bit internal/24-bit external) color scanner is rated at an optical resolution of 2400 by 4800 dpi.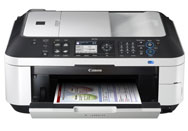 The new Pixma MX350 ($150) and Pixma MX340 ($100) look quite similar. The print speeds and print resolutions are the same: 8.4 ipm (600 by 600 dpi) for black, and 4.8 ipm (4800 by 1200 dpi) for color. Both devices have a 8.5-by-11.7 (48-bit internal/24-bit external) color scanner with an optical resolution of 2400 by 4800 dpi.
The major difference between the MX350 and MX340 is that the MX350 has a 2.5-inch LCD that lets you preview images from PictBridge-connected cameras or memory cards. The MX350 also has support for double-sided printing.
Both the MX350 and MX340 have support for Wi-Fi and USB. The MX350 also has ethernet, while the MX340 does not.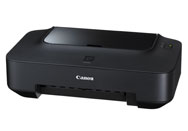 The new Pixma iP2702 ($50) is an affordable color inkjet photo printer. Canon has rated the iP2702's print speed at 4.8 ipm for color, and 7.0 ipm for black. It uses two ink cartridges, one for black, and a combination color cartridge. The printer has a maximum resolution of 4800 by 1200 dpi for color, and 600 by 600 dpi for black. It has only a USB connection.
Read more of our coverage of CES 2010.