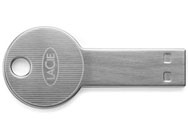 At CES 2010, LaCie introduced its new CooKey and WhizKey USB flash drives. Like LaCie's iamaKey, the CooKey and WhizKey feature key-like designs by 5.5 Designers.
Both the CooKey and WhizKey are available in capacities ranging from 4GB ($20) to 32GB ($100). According to LaCie, both devices feature transfer rates of up to 30MB per second. The drives use gold SIP technology, and are water- and scratch-resistant. LaCie includes a clear plastic cap to cover the USB conectors.
LaCie also includes 4GB of free storage on its online storage service, Wuala. If you need additional storage space, LaCie has annual subscription plans ranging from 10GB for $25 per year, to 1TB for $1000 per year.
The CooKey and WhisKey each have a two-year warranty.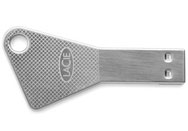 Read more of our coverage of CES 2010.