With last year's much anticipated arrival of Need for Speed Undercover for the iPhone and iPod touch, Electronic Arts not only delivered all the high-speed action and custom cars that fans of this racing franchise have come to love. But the developer also did it in a way that elevates gaming on the iPhone and iPod touch.
There have been some really good racing games in the App Store so far, but as far I'm concerned, Need For Speed Undercover leaves them all in the dust. This is easily one of the best games to find its way onto your iPhone or iPod touch.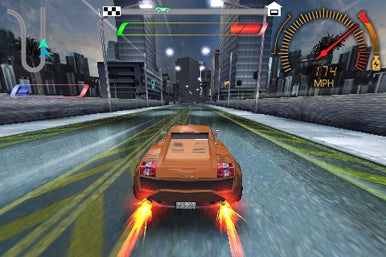 Need For Speed actually has a good story line that is unveiled in the form of short movie clips between races. The story is quite familiar, but still adds to the overall enjoyment of the game: you play an undercover cop trying to infiltrate street racing gangs by racing, stealing cars, and engaging in other illegal activities.
To start out, you're given some cash to buy one of three cars from the garage. As you complete missions, you earn cash and style points that unlock more cars for purchase. You earn style point through near misses with cars and other dangerous driving stunts. There are several types of missions like timed races, elimination races, delivering stolen cars, taking out police cars, and so on. The different mission scenarios are all nicely tied into the game's story.
Need For Speed has lots of awesome cars you can buy, from a Nissan or Mitsubishi all the way up to a Lamborghini or even a Ford GT. Not only do you get to drive these super cool cars, but using the cash earned on the street, you can customize them, tweaking the performance of your machine with upgrades to the nitro boost, top speed, handling, and more. Since you'll want to win races in style, you can also buy ground effects packages, paint jobs, new rims, and anything else you may need to stun the competition. If you tire of a car in your garage, you can always sell it to get cash for more upgrades or new cars.
Need For Speed's controls are well thought out and polished. You turn by tilting your iPhone or iPod touch left or right; a quick jerk in either direction causes you to start drifting. The steering and handling have a natural feel to them, and after playing for a few minutes, you'll be right at home with the controls.
You automatically accelerate, while you brake by tapping and holding anywhere on the screen. For a boost of nitrous, you just swipe upward. If you're going too fast to navigate upcoming obstacles, you can swipe downward to briefly slow time.
Need For Speed has some of the best graphics I've seen on the iPhone. The 3D cityscapes look great—as they whiz by at more than 100 miles-per-hour, you really feel like you're flying. All of the cars in the game are true to life and rendered in great detail. I actually wrecked a few times just looking at the clouds overhead or the reflections of buildings on the street. I was truly impressed with the high-end graphics and even more impressed with how smoothly the game ran. Every once in a while, there was a slight bit of lag on the 2G model, though it didn't hinder my enjoyment of the game.
The in-game sound effects are just about as impressive as the graphics. The sounds of revving engines, police sirens, crashes, and the helicopter flying overhead in some missions really serve to immerse you in the game. There's also a rock-and-rap soundtrack that's pretty cool; you can listen to your own music as well.
EA has really set the bar high for racing games on the iPhone with Need For Speed Undercover. Everything about the game just exudes perfection. This is what gaming on the iPhone and iPod touch should be like.
[Tim Mercer is a technology enthusiast, graphic designer, and blogger, whose blog, digital-artist-toolbox.com, offers free resources to the digital artist and graphic designer.]