Note-taking apps of varying quality fill the productivity section of the App Store. Simplenote, from Codality, aims to provide a high quality experience with a simplistic note-taking process.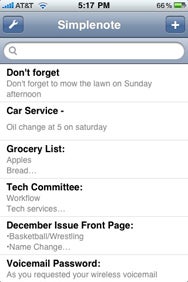 One of Simplenote's most attractive features is its clean and easy-to-use interface. In fact, there are only two other windows to Simplenote besides the text-editing panel—the home screen and the options window. The home screen is the main file viewer with search bar, while the options screen can force a sync with the online server and associate your iPhone with a Simplenote account.
Simplenote uses an extremely simple but functional text-editing window. In addition to the text entry field, there app provides buttons for e-mailing a copy of the note and trashing the document. There are no metadata fields, advanced formatting options, or hassle in trying to get to a note.
While simplicity and ease-of-use are great features to have when quickly jotting down notes, most users want a way to get their information out of Simplenote and onto their computers. Luckily, the developer has built in a syncing mechanism that stores notes on the Web, accessible from any browser. Any changes made to the online notes will be sent back to the iPhone.
Recently, Codality has implemented several new features into Simplenote, such as the ability to lock-in an orientation, support for TextExpander snippets, and advanced sort ordering.
Along with this update, a premium version of Simplenote arrived. These optional premium features allow users to subscribe to their notes as an RSS Feed, gain unlimited access to the Simplenote API, create notes by e-mail, automatically back up notes, and have prioritized support. While all of these features are great, they also come with a recurring fee.
Simplenote is by far superior to the iPhone's built-in Notes app; I now turn to Simplenote for most of my note taking. For jotting down quick notes, ideas, and bursts of information, Simplenote performs beautifully. I still use Evernote for accessing my lengthier notes created on my desktop computer, but Simplenote is by far easier and quicker to get access to while on-the-go. If you don't have a need for Evernote's organizational and formatting capabilities, Simplenote would serve you well.
[ John Fuller is a freelance designer and writer from Texas.]