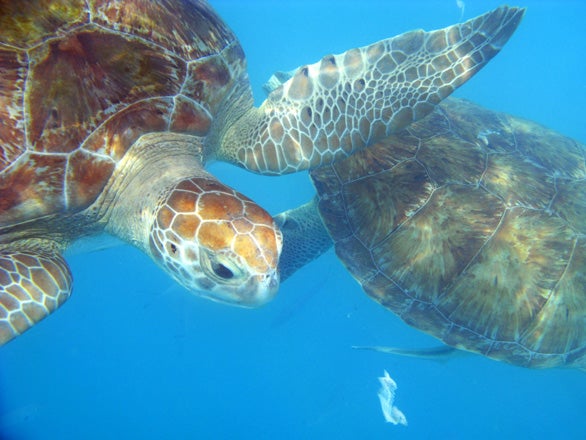 Journalist Danny Allen's Canon G9 has gone underwater, into the snow, and held it's own against dust storms at Burning Man. To keep it safe from the elements during his extensive travels, Danny encased it in Canon's WP-DC21 housing for G7 and G9 point-and-shoot camera models ($240; waterproof up to 130 feet). The sturdy plastic case (Canon makes similar cases for other, newer models) gives the photographer access to all the same buttons and features on the camera that they would normally have.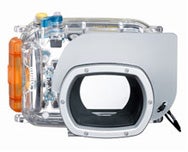 This shoot was taken while Danny was snorkeling in Barbados with some very friendly turtles. He ditched his snorkel and went down to between 3 and 6 feet below the surface. This picture was taken at F4 at 1/250th of a second.
Colors fade the deeper you go underwater, disappearing in light spectrum order (red, orange, yellow, green, blue, indigo, and violet). Most underwater photos will have some amount of blue or gray tint. To get rid of the haze, you usually have to tinker with the white balance and saturation.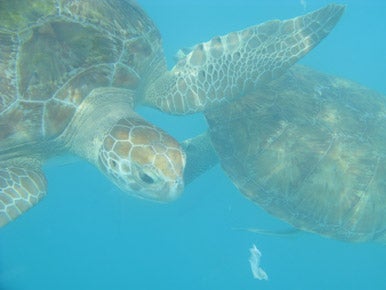 On trips like this one, Danny and his fiancé want to keep post-production to a minimum to save time, so they use Picasa to organize and edit photos: "Because we were traveling, we didn't want to fuss around with photo adjustments such as white balance and contrast like we normally would. We also wanted to share pictures easily with our families."
Danny only used Picasa's I'm Feeling Lucky button to punch up this photo. While not a perfect solution for every photo, auto adjustments can be a huge time saver when you're on the go and taking large volumes of photographs. More detailed edits can be made to specific photos later when you're no longer traveling.
Danny Allen is a contributing editor for pcworld.com and has also written for tech sites such as Gizmodo.com.
Want to submit your own photo to our Snapshot series? Send the photo (or a link to the photo) and a description of how you got the shot to digitalphoto@macworld.com. Include the text "Snapshot" in the subject line. We'll pick our favorites and feature them on our Website. Chosen photographers will receive a free printed copy of our Digital Photography Superguide.