If your New Year's resolution was, "I never want to leave my living room again," the Boxee Box from D-Link will go a long way towards fulfilling your goal.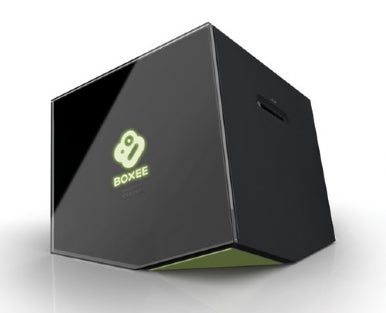 The Boxee Box ( announced in December, but which I got a chance to see in person at CES) is a hardware implementation of the popular Boxee software, which combines Front Row-like media features across your local network with streaming media delivery from the Internet. You won't need your computer to access dozens of available Internet channels, including your Hulu or Netflix accounts if you have them. Any media you have on your local network is transmitted over an 802.11n wireless connection, or through an ethernet cable. And it supports nearly two dozen video, audio, and photo formats.
The Box comes with some additional touches that indicates it's very well thought through: USB ports on the back to attach a media hard drive; two video-out ports to match your TV; and a QWERTY thumbboard on the back of the remote so you can use the Box to share your personal media and correspond over included social media applications such as Flickr. There's also an SD card slot to expand internal storage—the person I spoke to at CES said you could use this slot to transfer media to a portable device, but this functionality is not mentioned in the press information.
Pricing hasn't been set, only lists as "under $200"—so presume $199 until further notice. Boxee has no monthly fees. Unfortunately, your gratification won't be instant; the Boxee Box won't be available until the second quarter of this year.
Read more of our coverage of CES 2010.