Editor's Note: The following article is reprinted from the Today @ PC World blog at PCWorld.com.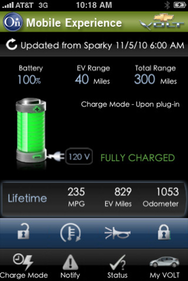 When the Chevy Volt electric car rolls off production lines later this year, owners will be able to obsess over them even when they're not behind the wheel thanks to a powerful mobile app from OnStar (a subsidiary of General Motors).
The OnStar Mobile App for the iPhone, iPod Touch, Blackberry Storm and Motorola Droid lets you monitor and control the Volt's electrical functions. It can also remotely lock and unlock the car and sound the horns for those times when your parking space eludes you.
Everything's controlled from a simple dashboard that shows how much charge is left in the Volt's battery, how far you can travel on that charge and on the car's backup gasoline engine and how many miles per gallon you're getting in the eco-friendly vehicle. (OnStar calls that last readout the "brag bar.")
When the car's plugged into a power source, you get even more control. It's possible to start and stop charging, and to schedule a charge for the electric company's off-peak hours, saving money. If someone unplugs the power source, OnStar can send a text message or e-mail alerting the user. Alerts can also be set up to say when charging is complete, or to remind the user to plug in.
The app can also remotely turn on the car's climate controls, though the car itself can't be started without a key in the ignition.
OnStar service comes free with the Chevy Volt for a limited but still unannounced amount of time. After that, it'll cost $199 per year. The app itself is free, and you can preview it now, without the car, for the Storm and Droid. It should be in the iPhone's App Store tomorrow morning. Don't have one of those smartphones? All the Volt features will be accessible from OnStar's Web site as well.
Read more of our coverage of CES 2010.