Editor's Note: The following article is reprinted from GamePro.com. For more gaming news, visit GamePro's news page.
iPhone games continue to improve in 2010 with a new dual-stick shooter and a classic PC puzzler coming to the App Store in January.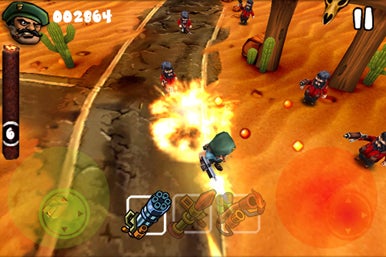 Angry Mob Studios is bringing mayhem back with Guerrilla Bob, a twin-stick shooter that takes place in an over-the-top cartoon world of violence and betrayal. Guerrilla Bob features an online leaderboard system, an array of secret items and weapons ( a la Shadow Complex) and a story so outlandish we could only quote the press release for your reading pleasure:
It all started with two best friends. Bob and Johnny have been friends since they were 10, and they continued to be best buddies through high school, and then through college.

Eventually, Bob decided to enroll in the army, while Johnny chose a life of crime and money. Bob got great achievements and got promotion after promotion until he got to be a national hero.

Jealous of his success, Johnny set him up so that Bob would look like a corrupt soldier. So Bob was kicked out of the army. With nothing left to do, Bob decided to get REVENGE, and became a rebel. From then on, he would go by the name Guerrilla Bob.

One day, Bob found that the army had a plan to nuke the place where his old friend Johnny had his troops. He sabotaged the plan, so he'd go in by himself and kill them all one by one.
The same publisher is also backing an iPhone version of the PC game Cogs, a straightforward steampunk puzzler from Lazy 8 Studios that challenges players to construct a variety of incredible devices from sliding tiles. The PC version is one of the finalists in the "Excellence in Design" category of this year's IGF, and the iPhone version is expected to include Chillingo's global achievement and leaderboard system (the same system behind Guerrilla Bob' global leaderboard.) Players who can't wait for Cogs to hit the App Store can check out the PC demo here.