Amazon.com is selling its Kindle DX with a 9.7 inch display in more than 100 countries outside the U.S. It is available for pre-order starting Wednesday, with actual shipments scheduled for Jan. 19, Amazon announced.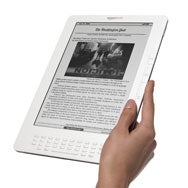 The product, called the Kindle DX with Global Wireless, is priced at $489.
The company started shipping a smaller version of the Kindle, the Kindle with U.S. & International Wireless, outside the U.S. in October for $279. That reader has a 6-inch display, and continues to be sold in the countries targeted by the new Kindle DX, according to information available on Amazon's web site.
Like the smaller version, the Kindle DX will not be sold in China and some other markets. Amazon is unable to ship the Kindle and offer Kindle content in China, the company said on its web site.
"We want to ship Kindle and Kindle DX everywhere, and we're working on it", a spokeswoman for Amazon said on Wednesday in an email, when asked why Amazon was not shipping the devices in a key market like China.
Amazon said in December that Kindle has become the most gifted item in its history. Customers purchased more Kindle books than physical books for the first time on Christmas Day, Amazon said. The company did not disclose unit sales of the product.
The company has teamed up with local publishers in various countries to offer their products on the Kindle, but in India for example, the prices of the three local newspapers offered on the Kindle are higher than the news-stand price for a physical copy. Customers are also charged in U.S. dollars rather than in local currency. Many of these newspapers are already available free online.
Amazon may have to streamline its distribution, and take it closer to global markets, to allow customers to pay in local currency and save on shipment costs, analysts said.
Amazon currently sells the Kindle from its U.S. store which adds import duties, shipping, and handling costs to the cost of the device for customers outside the U.S. An Amazon spokeswoman on Thursday declined to comment on whether Amazon was planning to set up a local presence or retail sales in India, a key market for wireless devices.
Magazines and newspapers delivered on the Kindle outside the U.S., including local publications, do not include photos and other images, according to the company's web site. In order to keep the price of the periodicals low, Amazon has chosen to remove some images to decrease the size of the file when delivering that file internationally, the spokeswoman said.
The Kindle DX with Global Wireless has 3.3 GB of available memory and can hold up to 3,500 books, Amazon said. It has a built-in, native PDF reader using Adobe Reader Mobile technology for reading professional and personal documents.