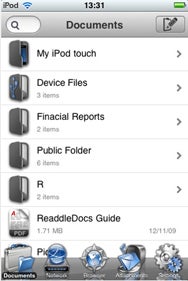 Ukraine-based Readdle has released an update to ReaddleDocs, its document sharing and viewing app for the iPhone and iPod touch. Version 2.0 of the app introduces some interesting features, such as the ability to reflow the content or resize the text of a PDF document to improve on-device viewing; it also adds support for links and in-document navigation through PDF bookmarks.
ReaddleDocs offers several methods for transferring documents on and off an iPhone, including file-serving through network shares, transmitting via e-mail, or USB. The app also supports exchanging files directly between two devices, provided that they are both on the same Wi-Fi network and they are both running ReaddleDocs.
For those who prefer saving their files in the cloud, this app is capable of storing and retrieving documents using a number of different online storage systems, including MobileMe and Readdle's own product, Readdle Storage. (The application comes with a free "App Store" account that can hold up to 512MB of data.)
The app supports the ubiquitous Microsoft Office document formats—Word, Excel and Powerpoint—as well as PDF files. ReaddleDocs 2.0 is available immediately and costs $5; it is compatible with all generations of iPhones and iPod touch running iPhone OS 3.0.