Sling Media has announced a batch of new gadgets at CES 2010, all of which aim to enhance the experience of place-shifting video. The foursome includes an updated Slingbox that sends video anywhere, a receiver that moves video to another location within your house, a flat screen display, and a slick remote control.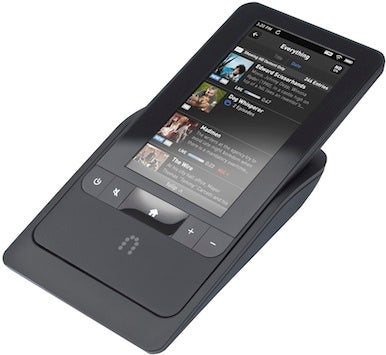 If you're new to the Slingbox concept, here's how it works: you connect the box to the Internet and to a video source—a DVR, a cable box or a satellite receiver. The Slingbox makes all of that video accessible from any Internet-connected Mac, PC, or iPhone, and voilà, you can watch your favorite TV show in an airport departure lounge.
The new Slingbox 700U is the company's slimmest version, and it connects to your set-top box via USB. It's designed to handle HD video streams. The Sling Receiver 300 is a companion to the Slingbox, and has component, composite, analog, and HDMI connectors so you can stream Sling video to a second TV at home.
The Sling Monitor 150 offers another way to watch streamed video at home. The 15-inch screen tries to be as portable as possible, and has a handle and a tabletop stand. It also sports built-in Wi-Fi and touch controls.
Finally, there's the Sling Touch Control 100. The remote has Wi-Fi, too, as well as a 4.3-inch touch-screen. It communicates with the Slingbox, receiver, your DVR and other AV equipment, letting you navigate and access all that media.
There's no word on pricing for these new goodies. In a move that potentially thwarts general adoption of the new devices, Sling Media is initially making them available only through cable and satellite providers. So you'll have to hope yours jumps on the bandwagon.
Sling Media is owned by EchoStar, which supplies set-top hardware to the Dish Network. The latter plans to offer the new boxes, monitor, and remote as add-ons to its set-up.
Read more of our coverage of CES 2010.