Microsoft launched Bing in 2009 in a bold but foolhardy effort to unsettle—if not actually unseat— Google's domination of the search engine market. Microsoft, ever the scrappy underdog, unleashed a clever advertising campaign that prescribes Bing as a remedy for search overload. For the low, low price of $100 million on marketing, Microsoft captured about 10 percent of the search audience in its first nine months. Not bad.
And just as Microsoft followed Google into the search market, so Microsoft follows Google to the iPhone app market.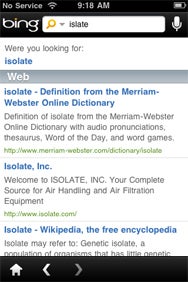 Microsoft's Bing app for the iPhone and second-generation models of the iPod touch takes dead aim at Google's impressive mobile app. Microsoft's app cannot quite match its main competitor's excellence, largely because in attempting to outsmart Google, Bing mostly succeeds in outsmarting its users.
First, note that the app's interface is a stripped-down version of what you would see on a traditional desktop. One of Bing's major advantages over Google—prominently displaying suggestions and related categories on the left side of the screen—is gone. Instead, the Bing app makes some wild guesses that Google would not.
For example, Apple's long-rumored tablet happened to be in the news, so I began typing in "iSlate." Bing listed several possible search terms I might want. In fact, "iSlate" popped up at the top after just three letters. Alas, Bing then got clever and decided to do my thinking for me. And so what should appear at the top of the page? A question phrased in the form of an ungrammatical statement—"Were you looking for: isolate"—followed by links to Merriam-Webster's dictionary definition, a company called Isolate Inc. ("Your complete source for Air Handling and Air Filtration equipment"), and a Wikipedia entry. The fourth entry, visible only after scrolling, provided a link to iSlate.org, an unofficial Apple tablet rumor blog, followed by more definitions for isolate, image thumbnails of things related to "isolate" and "isolation" as well as one artist's rendering of the Apple tablet, and—at last—actual news related to the product.
Talk about search overload!
Bing also offers a voice search feature. At best, it only works about as well as Google's, provided you remember to speak slowly (but not too slow!), clearly and carefully. You can activate the voice search function by either placing your phone to your ear—just like Google—or by tapping the microphone icon at the top right of the app's home screen.
It's fair to say, however, that Bing does try to distinguish itself from Google Mobile App in a few small if interesting ways. Bing certainly looks pretty—Microsoft rotates in new background eye candy every day. Bing's home screen navigation is marginally easier and much simpler than Google's. Six large buttons appear near the bottom of the screen. You can visit dedicated pages for images (which you can then use to customize your own background), directions, maps, news, and nearby businesses and movies (both of which require you to let Bing use your current location when you launch the app). You can make the navigation buttons disappear by tapping an icon at the very bottom of the app's screen.
Google Maps may be ubiquitous, but Bing does a terrific job of getting you from point A to point B in several different ways. You can either speak or tap in the name of a business name and address from the home screen and Bing will return a list of possibilities. Tap the location you're looking for and up pops the map. You can also browse for nearby businesses as you would with the yellow pages or any number of apps (such as Future Tap's Where To? and CrimsonJet's Places. The downside is Bing will list locations alphabetically rather than by proximity. The directions feature lets you select travel routes by car or by foot, and Bing will give you close-up, step-by-step (or turn-by-turn) instructions. Most important—perhaps especially for drivers—is Bing will zoom in and out and flip through directions with just one touch.
If you find, as I did, that Bing's screen rotation is too sensitive and therefore annoying, you can turn it off in the settings without leaving the app. Bing will also let you adjust your safe search filter and clear your search history.
Bottom line: Microsoft's Bing app is headed in the right direction—especially with maps—but Google's Mobile App is still tops for search.
[Ben Boychuk is a columnist and freelance writer in Rialto, Calif. Feel free to e-mail him.]