Swap It, a $1 iPhone app from Robert Hodgen, is a clever way to share data between multiple iPhones and second-generation iPod touch models. It absolutely works as advertised, but I'm not convinced that its unique clipboard-centric approach is better than some homegrown alternatives.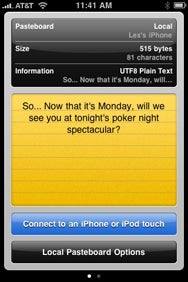 Both you and the person you're swapping data with must have Swap It installed to take advantage of the app. When you launch the app, it looks at your iPhone's pasteboard—that is, the last data you chose to "copy," whether it was plain text, a phone number, a URL, or a photo. Swap It is smartly able to distinguish between the different kinds of information you might have copied, and treats them accordingly: Links can be opened in Safari while photos can be saved to your camera roll.
Once you've confirmed that the data on your pasteboard is the information you want to send, and your contact has also launched Swap It, you can connect your devices. Swap It only supports Bluetooth—sharing the same Wi-Fi network or mere proximity is simply not enough. The app will prompt you to start up Bluetooth if necessary—though disappointingly, it doesn't offer to shut it off again once the transfer is complete. Battery savers like me who leave the 'tooth off as much as possible will need to hop over into the Settings app post-transfer to take care of that.
So, for those of you playing along at home, both you and your recipient have launched Swap It, you both have Bluetooth-capable devices, you've both turned Bluetooth on, and now you're ready to do the actual swapping. You're in luck, because Swap It does just what it's supposed to do as elegantly as possible. The recipient will see the data you were sending, again with contextually-relevant buttons to open a link in Safari or dial a phone number if appropriate. The person on the receiving end is also given the option to let the newly-arrived data overwrite his or her own pasteboard, if desired.
Swap It even sports an option for a true swap, where you get the other person's pasteboard and she gets yours. But I can count on zero fingers how many times I've found myself needing that particular feature.
When you're in a situation where Swap It can do its thing—both you and another user have the app and capable devices—it truly works great. It's the kind of sharing technology that Apple should frankly have built into the iPhone from the get-go.
Realistically, though, how often will you find yourself in the ideal circumstances to use Swap It? If an iPhone-wielding friend has the phone number I need, chances are he'll need to launch the App Store and buy Swap It. But even if he already has Swap It installed, why bother having us both launch the app? A phone number is ten digits long. Read it to me, and I'll tap it in.
Obviously, big blocks of text aren't quite as easy to share verbally—and photos can't be shared at all that way. But you've both got Mail installed, and if you're both using iPhones, you have MMS, too. I've been hard-pressed in my weeks of testing Swap It to find any situation where the information on an offline iPod touch was needed so urgently that a deferred e-mail wouldn't do the trick.
So if Swap It sounds like it would fulfill a need you have, rest assured that it works and works well. But if e-mail, MMS, and talking to your friends can already suffice for your data-sharing needs, you should be all set already.
[ Lex Friedman writes for Macworld and Twitters with some regularity.]