Editor's note: The following article is reprinted from the Today @ PC World blog at PCWorld.com.
After a groundbreaking 2009 in terms of point-and-shoot camera design (and a major announcement earlier this week), Samsung isn't taking any time off from the innovation game.
The company's announcements at CES expand on the more interesting items that it offered last year, namely dual-screen cameras, wireless connectivity options, AMOLED displays, gesture-controlled touchscreen interfaces, stylish looks, and radical design elements.
The first hydroformed camera bodies
Two brand-new models, the Samsung CL80 and the Samsung TL240, have near-unibody designs created by the hydroforming process, which uses liquid pressure during manufacturing to shape the frame and create smooth contours.
Samsung claims that the two cameras are the first consumer electronics to be made through hydroforming techniques; the process has been used in the past to manufacture car parts and bike frames.
Both cameras have a few more-subtle features, as well. The back of each camera is slightly tilted, as are the shutter buttons. Samsung says that these slight angles serve a dual purpose: for comfort, and to assist with high-angle self-portraits and group shots.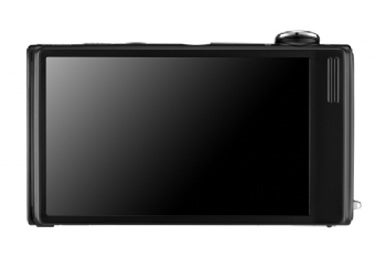 Both models are touchscreen cameras, offering the same gesture-based controls as last year's DualView TL225 and TL220. Users can tilt the camera to toggle between menu options, draw an X on the screen to delete an image, or swipe in a circle motion to rotate a photo.
Samsung CL80: Wi-Fi, Bluetooth 2.0, and AMOLED
The 14-megapixel Samsung CL80 offers a gigantic 3.7-inch AMOLED touchscreen that controls nearly all of its functions, a 7X-optical-zoom lens (31mm to 217mm), dual optical/digital image stabilization, and 720p HD video capture at 30 frames per second (with HDMI-out).
The icing on the cake, however, is the camera's wireless connectivity. The CL80 has Wi-Fi capabilities and direct-from-camera upload features for Facebook, Picasa, and YouTube, as well as Bluetooth 2.0 support for transferring files to mobile phones.
The Samsung TL240 boasts practically all of the same specs, minus the wireless connectivity and the AMOLED touchscreen; the TL240 has a 3.5-inch LCD touchscreen with haptic feedback.
Both feature-heavy cameras store images and video to MicroSD cards only. They're slated to hit stores in the spring; Samsung has not yet announced pricing information.
Two new dual-screen cameras: TL210 and TL205
Following the success of its innovative DualView TL225 and TL220 cameras, Samsung will offer two new point-and-shoot models with front-panel LCD screens in addition to the standard LCD on the back.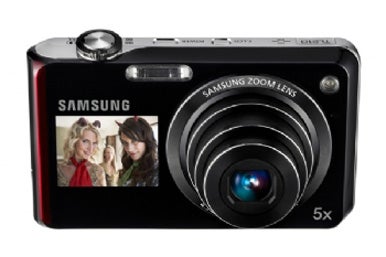 The new DualView TL210 and TL205 will have front-facing 1.5-inch LCDs to help with self-portraits, timer shots, and easily distracted infants. The key difference between the new models and their 2009 predecessors is the back-facing LCD: Instead of sporting a touchscreen-and-gesture-based interface, the TL210 and TL205 have physical buttons.
The 12-megapixel TL210 is the more full-featured of the two new DualView models, offering a 27mm wide-angle lens with 5X optical zoom, a 3-inch-diagonal back LCD, 720p HD video capture, dual optical/digital image stabilization, and face recognition. Like the TL225, it stores photos and video to MicroSD cards only.
The lower-end TL205 takes standard SD/SDHC cards, serves up a 12-megapixel sensor and a 2.7-inch back LCD, and shoots 640-by-480 standard-definition video. It doesn't have image stabilization, or as many in-camera extras as its sibling. Both DualView cameras are due in March; Samsung has yet to announce pricing.
Read more of our coverage of CES 2010.