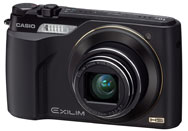 Editor's note: The following article is reprinted from the Today @ PC World blog at PCWorld.com.
Casio has one of the more exciting camera announcements at CES thus far: the High Speed Exilim EX-FH100, a 10X-optical-zoom pocket megazoom camera with a high-speed burst mode that shoots up to 40 stills per second.
The EX-FH100 has a video mode that captures up to 1000 frames per second at a reduced, 224-by-64-pixel resolution. The camera captures up to 120 fps at 640 by 480 resolution, and also has the ability to shoot 720p HD video at 30 fps.
The high-speed still-picture and video modes aren't new; they're similar to those of previous Casio cameras such as the EX-FH20,and EX-FS10. However, this is Casio's first pocketable high-zoom camera with rapid-fire settings. Like Casio's previous high-speed models, the EX-FH100 also features a prerecording buffer that starts capturing shots upon a half-press of the shutter button.
Among other appealing features are the ability to shoot RAW (DNG format) images, CMOS-sensor-shifting image stabilization, and a relatively slim design for a pocket megazoom—despite its powerful zoom lens, the EX-FH100 is just a shade more than an inch thick. The lens reaches from 24mm wide-angle to 240mm telephoto.
The EX-FH100 uses the high-speed feature for a handful of new in-camera modes, too: a high-speed night mode that Casio says enhances high-ISO shots in low light, a high-speed exposure bracketing mode, and a High Speed Best Shot mode that helps you select the best high-speed mode for the shooting conditions.
Three new Exilims showcase in-camera tricks
At CES, Casio also announced three 14-megapixel cameras, all of them built to show off the company's revamped imaging engine and green-screen-like Dynamic Photo feature.
In addition to in-camera tricks such as extracting subjects from still photos and superimposing them on a different background, Casio says, the new Exilim Engine 5.0 lets you do the same with moving images. A Premium Auto mode, which automatically chooses focus points, ISO settings, color balance, and exposure settings, is also in the mix for the new cameras; so too is Art Shot, which allows the shooter to make a photo look like a painting or drawing.
The Exilim EX-H15 is a pocket megazoom with the new Exilim Engine and Dynamic Photo features, offering an ultrawide-angle 10X-optical-zoom lens (24mm to 240mm), CCD-shifting image stabilization, a 3-inch LCD screen, and 720p high-definition video capture at 30 fps.
Casio is also hyping the EX-H15's battery life, claiming that the camera offers up to 1000 shots per charge of its battery.
Another model, the Exilim EX-Z2000, offers a 5X-optical-zoom lens (26mm to 130mm), CCD-shifting image stabilization, a 3-inch LCD screen, 720p video capture at 30 fps, and a battery good for 580 shots per charge, according to Casio.
Lastly, the Exilim EX-Z550 offers a 4X-optical-zoom lens (26mm to 104mm), a 2.7-inch LCD screen, CCD-shifting image stabilization, and 720p video capture at 24 fps.
Casio has not yet announced pricing or availability for the new Exilim cameras.
Read more of our coverage of CES 2010.