Editor's note: The following article is reprinted from the Today @ PC World blog at PCWorld.com.
With a handful of new Cyber-shot camera announcements at CES, Sony became the first company to offer TransferJet-capable devices for wireless peer-to-peer sharing between cameras, laptops, and other devices.
The new Cyber-shots are also the first Sony point-and-shoot cameras to (finally) support SD and SDHC cards; today's announced models all offer hybrid storage-card slots that can handle both SD/SDHC and Sony's proprietary Memory Stick format.
Other notable features include full HD video capture in AVCHD format, an improved Sweep Panorama mode, an in-camera high-dynamic range mode, and geotagging capabilities.
TransferJet wireless sharing
The Cyber-shot DSC-HX5V and Cyber-shot DSC-TX7 are the first TransferJet-enabled cameras. TransferJet is a proximity-based, wireless technology that transfers images, video, and other files between compatible devices when you simply hold the gadgets about an inch apart.
From there, the technology creates a link between the compatible devices and allows you to transfer files. It's fast, too: TransferJet supports peer-to-peer file sharing at speeds around 375 megabits per second. Unlike the lower-bandwidth Bluetooth, no device pairing is necessary.
Users will need a TransferJet-capable Memory Stick card to transfer files wirelessly. Though Sony developed the TransferJet technology, the company is just one of several members of the TransferJet Consortium; the group includes companies such as Canon, Casio, Kodak, Nikon, Olympus, Panasonic, and Samsung.
TransferJet-capable Memory Sticks, available sometime in January, will sell separately for about $100.
Sony Cyber-shot DSC-HX5V: MacGyver's pocket megazoom
One of the new TransferJet cameras is also equipped with GPS geotagging features, as well as an internal compass to register the direction of each shot; in addition, the GPS functionality automatically updates the camera's clock when you travel between time zones.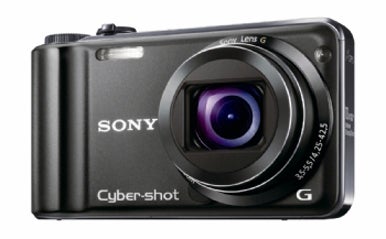 The GPS-capable Cyber-shot HX5V has a 10X-optical-zoom lens (25mm to 250mm) and a 3-inch LCD screen, and it offers the company's low-light-optimized Exmor-R CMOS sensor, G Lens, and Bionz image processor. It also shoots 1980-by-1080-resolution HD video in AVCHD format, captured at 17 megabits per second and 60 interlaced fields per second (60i).
On top of that, the 10-megapixel Cyber-shot HX5V is one of two new Sony cameras with a revamped Intelligent Sweep Panorama mode, which the company says improves on the one-touch Sweep Panorama feature introduced in last year's models. The feature now detects moving subjects in the shot and adjusts capture speed automatically, ideally resulting in a smoother panoramic image.
Also new in the HX5V is an in-camera high dynamic range (HDR) mode, which takes photos in rapid-fire succession at different exposure settings and overlays them to create an image with greater dynamic range.
Additionally, Sony is touting the camera's Optical SteadyShot with Active Mode image stabilization, which it says offers compensation for a much larger range of motion than the feature in last year's models did.
Slated for March and available in black, the DSC-HX5V is priced at about $350.
Sony Cyber-shot DSC-TX7: Slim, feature-packed touchscreen camera
The other new TransferJet-capable camera is the fashionable DSC-TX7, which measures less than an inch deep and offers touchscreen controls via its 3.5-inch LCD screen.
The 10-megapixel TX7 doesn't offer the optical zoom range, revamped optical stabilization, or geotagging features of the HX5V, but it does have many of the same in-camera features.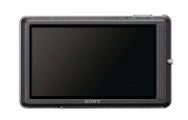 Its 4X-optical-zoom lens reaches from 25mm to 100mm, and the camera provides the same AVCHD video capture, Intelligent Sweep Panorama mode, and HDR capabilities as its sibling does. It also offers optical image stabilization, but not the super-powered version found in the HX5V.
The Cyber-shot DSC-TX7 will be available in blue, red, and silver this February for around $400.
Read more of our coverage of CES 2010 here.