The International Consumer Electronics Show is a massive event—showcasing tens of thousands of products—making it difficult for the press to cover. Thankfully, events such as Wednesday night's Digital Experience, a marketing event presented by Pepcom, provide journalists with a peek at some of the show's more interesting products (as well as free drinks, hors d'oeuvres, and beads distributed by statuesque models painted like jungle creatures).
After enjoying our fair share of the latter, we poked and prodded the former. Among items that caught our eye were these.
Yurtopia Yurbuds
Yurtopia aims to address frequent complaints about poor-fitting earbuds—we're looking at you, Apple—without expensive upgrades or custom eartips. The company makes soft-rubber eartips, called Yurbuds, that fit _over_ Apple's stock iPod and iPhone earbuds (as well as similar-sized earbuds and headset earpieces) to provide a more comfortable and more secure fit.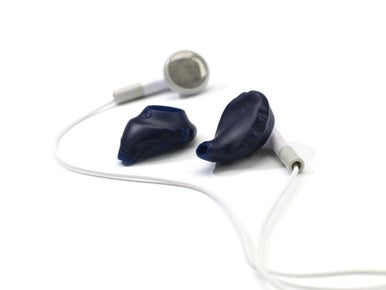 What makes the Yurbuds interesting is how you get the right fit: You take a photo—using a digital camera, or even the iPhone's camera—of your right ear, while holding either a quarter next to your ear or one of Apple's earbuds in your ear; you then upload that photo to Yurtopia. The earbud or quarter provides a reference point for Yurtopia's image-processing software to determine which of the company's 12 eartip sizes is the best fit for your ears. Yurtopia charges $20 for a pair of eartips; add $10 and you'll also get a set of Apple's older (non-remote) earbuds.
FLO TV
FLO TV, a subsidiary of Qualcomm, has created a mobile TV service that delivers the stations you'd find on basic cable (including ABC, CBS, FOX, NBC, Comedy Central, Disney, ESPN, and MSNBC) to a private mobile network that serves 100 major U.S. markets. In league with Mophie, FLO TV will offer its service to the iPhone and iPod touch.
It will do so via a Mophie Juice Pack that attaches to the iPhone or iPod touch. The case acts as the receiver for the FLO TV signal and then delivers the programming to the iPhone or iPod touch over Wi-Fi.
Geneva Lab GenevaSound S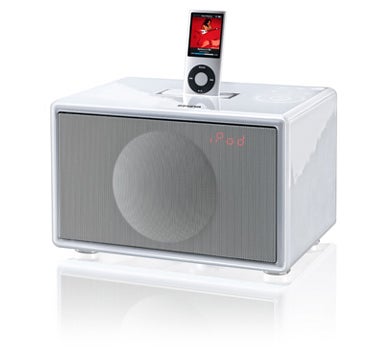 A few years back, we reviewed Geneva Lab's Model L, a massive, all-in-one sound system that featured an iPod dock, CD player, FM radio, and four speakers in a retro-stylish enclosure. It was an impressive system, but the Model L's size made it impractical for many people. At CES, the company debuted the much smaller—and with a $300 price tag, less expensive— GenevaSound S. (L for large, S for small—get it? There are also M, XL, and XXL models.)
The GenevaSound S uses the same visual design as the L, but the S's enclosure is a fraction of the size: just 9.3 inches wide, 5.7 inches tall, and 7 inches deep. Inside are two 3-inch, ported speakers, each powered by its own Class-D amplifier. You still get an iPod dock (this one automatically hides inside the unit when you remove your iPod or iPhone) and FM radio, but compared to the L, you lose the CD player but gain a clock and backlit, touch-sensitive controls. The GenevaSound S is available now.
SanDisk
When we write about digital music players at Macworld, we focus almost entirely on the iPod and iPhone, but there are other players in the world. Some of the most popular are made by SanDisk, which was showing off the $80 Sansa slotRadio, a diminutive audio player that uses microSD memory cards about the size of your fingernail.
The slotRadio uses pre-programmed cards that held either 500 or 1,000 pre-programmed songs from the Billboard charts in a variety of genres (including Classical, Rock, Country, Latin, and Hip-Hop/R&B). 500-track pre-programmed slotRadio cards are $30 and 1,000-track cards are $40. The player includes and FM tuner and is bundled with a slotRadio Mix card.
Smartfish ErgoMotion Keyboard

Among the more interesting products at the event was Smartfish Technologies' ErgoMotion Keyboard. As you'd guess from the name, the ErgoMotion Keyboard is designed with ergonomics in mind. But the Motion part of the name doesn't refer to the movement of your hands. Rather, it alludes to the fact that rather than trying to find a "perfect" ergonomic position, the keyboard itself moves and shifts as you type.
According to the company, the $150 Mac-compatible keyboard "studies your typing frequency, and subtly changes your hand and wrist position while you work." Specifically, as you type, the motorized keyboard regularly changes the distance and angle between its left and right halves, as well as the typing slope, to ensure that your hands are never in the same position for too long. The keyboard also prompts you to take regular breaks.
Read more of our coverage of CES 2010.