Editor's Note: The following article is reprinted from Macworld UK. Visit Macworld UK's blog page for the latest Mac news from across the Atlantic.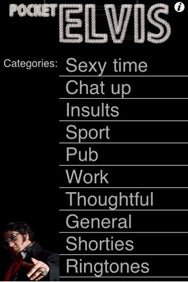 Just in time for Elvis Presley's 75th birthday celebration this Friday, Fab iPhone Apps has launched Pocket Elvis for the iPhone and second-generation iPod touch models.
The application allows users to choose from more than 150 phrases brought to you by the self-styled worlds greatest Elvis vocal impersonator, comedian and songwriter Mitch Benn.
"The voice of Elvis is so recognisable to people across the world it's always a pleasure to perform as him. With Pocket Elvis you can take a bit of Elvis everywhere you go, and hopefully have a lot of fun," Benn said.
Pocket Elvis also contains several comedy ringtones to download to your iPhone.
You can also submit phrases that you'd like to see on the application so when Pocket Elvis gets updated, you may hear one of your choices, according to its developer.
Available from the App Store, Pocket Elvis costs $1 and requires the iPhone 3.1 Software Update or later.