The Web is abuzz with the sound of music. Not that that's anything new, but several sites have reported that Apple has now beefed up its Web-based iTunes Preview section with actual previews of songs. At last, the feature can live up to its name.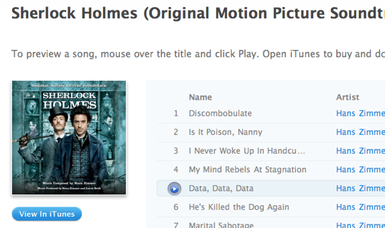 The song preview feature, which actually surfaced a few weeks ago, allows you to play the same 30-second snippet of a track that you'll hear in the iTunes Store, though there is a catch: you'll need to have iTunes installed in order to hear the songs (probably mostly a concern for PC users). You can access iTunes Preview through Apple's iTunes Charts page and then click on any album or artist to get the track listing. Hover over the track number and you'll see a little play icon show up—give it a click to play the sample. If you want to buy the track, you'll still have to journey to the center of the iTunes Store in order to do so.
There are some notable omissions: you can't preview an entire album as you now can through iTunes and the whole iTunes Preview feature is still limited to music: no movies, TV shows, audiobooks, or even podcasts.
As iTunes Preview was rolled out in November, it's somewhat of a head-scratcher why the preview feature didn't come along for the ride then. Some have suggested that the necessary licensing may not have been in place until Apple acquired music streaming site Lala in early December. Is this Apple laying the groundwork for Lala-style streaming? Or is it just a matter of a feature that wasn't ready for primetime until after iTunes Preview's quiet debut.
It seems unlikely that Apple would eliminate the iTunes application side altogether—after all, "control" is among the company's most prominent watchwords and the app-based storefront offers far more of that than a Web page. But it doesn't seem like too much of a stretch to suggest that between the Lala acquisition and Apple's rumored television plans, iTunes Preview might eventually act as a gateway to Apple media offerings, removing the barrier of downloading and installing iTunes for those who wish to merely browse the offerings.