When photographers ask about ways to spice up their work, one of my favorite suggestions is to experiment with infrared photography. This technique captures light from the near-infrared end of the spectrum, which is otherwise invisible to the human eye. The resulting photos can be beautiful and dramatic, with bright, glowing foliage set against a darkened sky.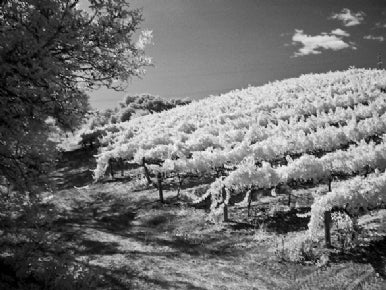 Infrared photography has experienced a resurgence in the digital age because there are many easy-to-use options for capturing IR light. However, not all cameras can see this type of light. Here's a breakdown of what you need and how to set up your shot when experimenting with IR photography.
The gear
Digital sensors are great at recording the infrared spectrum. However, to improve the camera's performance with normal photography, manufacturers now often install a filter that blocks infrared light—thereby severely curtailing the camera's IR capabilities. As a result, you may want to look for an older digital camera—such as the Olympus C-2020Z, Nikon CoolPix 950, or my personal favorite, the Canon G1—which isn't as IR-crippled as modern models. In fact, I've held on to the 3-megapixel G1, which is the most IR-sensitive of my cameras, specifically for this type of photography.
In addition to a compatible camera, you'll also need a special IR filter, such as the Hoya R72, which lets infrared light through but blocks much of the visible light spectrum.
If you have an iPhone 3GS, you may also be able to use it as an IR camera. In my tests, I found it to be surprisingly sensitive to infrared light. However, figuring out how to secure the filter and control the focus requires a lot of practice and patience.
Checking your camera
To get an idea of how sensitive your digital camera is to infrared light, try pointing a TV remote at it. Watch the LCD as you press any button on the remote. (To use this test with a DSLR, it needs to offer a LiveView mode for previewing shots on the LCD.) If you see a white dot on the screen, then your camera is detecting infrared light. The brighter the dot, the more sensitive your camera is. That said, I've found that the most reliable way to test your camera's performance is to mount the filter and go outside to shoot.
If you're willing to invest some money in the pursuit, you can have an older DSLR modified for IR photography by third party technicians such as Life Pixel. For a few hundred dollars, the company will remove the IR-cut filter from the camera and replace it with an IR-sensitive filter. This makes handheld shooting easier because more light can reach the sensor than with a thick external filter.
Getting the shot
The best part of IR photography is that midday is the perfect time to shoot—providing creative opportunities during what most people consider the worst time of day for visible-light photography.
Because the dense IR filter will make your image fairly dark, it can be difficult to compose a shot on the LCD in very bright sunlight. Instead, remove the IR filter on a tripod-mounted camera, compose the shot, then put the filter back on before setting the exposure.
The dense filter will require longer exposure times, so you'll definitely want to bring along a tripod, too. Even when shooting in broad daylight with my Canon G1, I use a shutter speed of 1/15 of a second at f/2 and ISO 200. If I stop down the aperture to f/5.6 or f/8, exposures can easily become 1/2 second and longer.
It can be tempting to switch to a high ISO setting to shorten the long exposure time. However, at an ISO of 400 and above, you'll see plenty of image noise in your enlargements. There's nothing really wrong with this since film IR is grainy too. But if you're using a tripod to steady your camera, you can tone down the noise by shooting at a lower ISO.
The results
Although we often think of dramatic black and white images for this type of photography, your camera will actually record them in color—albeit an odd tone that is often magenta tinted. You could avoid this by putting in camera in B&W mode, but I prefer to leave my creative options open and record in color. You can always convert to grayscale in post production, or you may choose to play with the color to eerie effect.
If all of this seems like too much work, check back tomorrow for the second installment of this discussion in which I'll show you how to edit your photos to look like IR images with iPhone apps and Mac software.
[Senior Contributor and professional photographer Derrick Story teaches photography on Lynda.com and publishes a weekly podcast at The Digital Story.]