With stunning white trees set against deep black skies, infrared images offer a lot of photographic drama. But capturing infrared light requires the right equipment—including a camera that's sensitive to that end of the light spectrum and an IR filter to block out the visible light. In the first part of this series, I explained how to outfit your camera for infrared photography. But if you don't want to bother with all of this, it's surprisingly easy to emulate the IR effect. Whether you're working with an iPhone or in a full-fledged image-editing program such as Aperture, there's likely a technique that will work for you.
Using iPhone apps
I've discovered three terrific (and very affordable) iPhone apps that create interesting infrared-like images: Photo fx 2.0 ( ), CameraBag 1.5.2, and Photo Lab 2.1.1. My favorite of the three is Photo fx. Here's a quick run down of the trio.
Photo fx 2.0 This $2.99 app by The Tiffen Company creates an infrared effect and offers a selection of six filters to customize the look. Once the filter is applied, you can further adjust brightness and apply blur. The image can then be saved at a variety of resolutions. You also have the option to preserve the original photo in its unedited state. In my tests, the final effect wasn't quite as pronounced as with CameraBag, but the resulting image offered better image detail than with either of the other apps.
CameraBag 1.5.2 This $1.99 app from Nevercenter gives you a one-click IR effect with no filter selection or adjustment controls. You can save the resulting image at four resolutions ranging from 400 pixels to 1200 pixels, and preserve the original, unedited photo. While I found that the IR effect was most pronounced with CameraBag, the app sacrifices image quality in the process. There was a noticeable loss of detail in the 1200-pixel version.
Photo Lab (with Wifi printing)2.1.1 This $1.99 app by Sudobility doesn't have a dedicated IR effect, but you can easily create it using the app's Dramatic Black And White filter combined the Adjust Contrast control. You can choose from three resolutions: 640 pixels, 1024 pixels, and full size. And the original, unedited image is automatically saved. Photo Lab's effect was quite good with excellent image quality.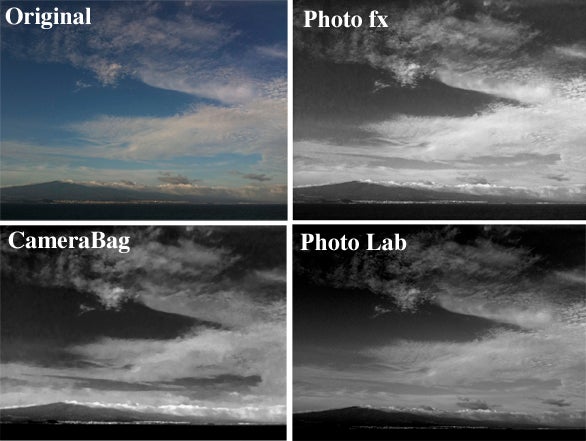 Using Mac software
You can create infrared-like effects from regular color images on your Mac, too. There are dozens of articles that explain how to do this in Photoshop, most of them using the Channel Mixer. But if you have Aperture ( ), Lightroom ( ), or Adobe Camera Raw, you don't have to deal with Photoshop layers to get that stunning IR effect.(Unfortunately I haven't found a way to use this recipe in iPhoto yet, so for now, the more sophisticated applications are required.)
My favorite tool for this job is Aperture, but you can apply these same techniques in Camera Raw or Lightroom. I've had the best results starting with Raw files instead of Jpegs because there's more information in the image to play with. I recommend choosing an image that has interesting foliage and a blue sky. Clouds will dramatize the effect.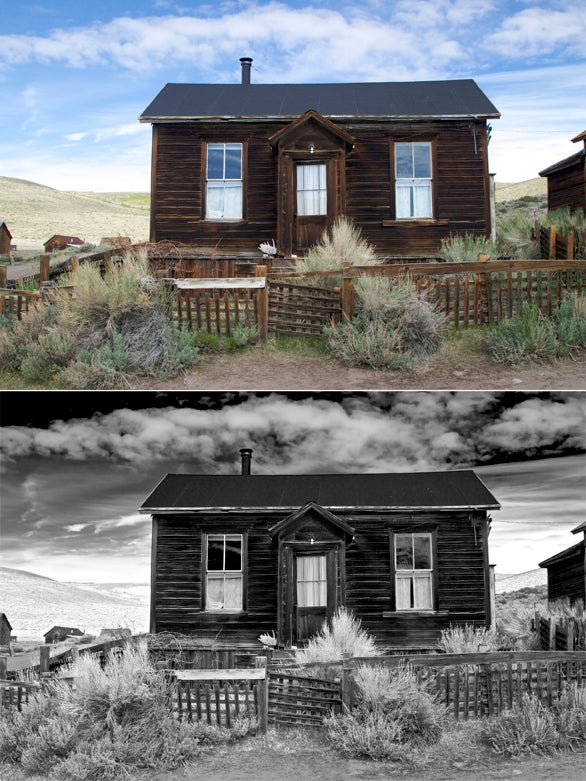 To begin, switch to the Adjustments interface in Aperture and use these steps as a starting point:
Step 1 Enable the Monochrome Mixer in Aperture. Move the Blue slider to -20 and Green to +80
Step 2 Switch to the Color adjustment brick and click on the Green square. Move Luminance and Saturation sliders all the way to the right.
Step 3 While still in the Color brick, click on the Yellow square and move the Luminance and Saturation sliders all the way to the right.
Step 4 And finally, in the Color brick, click on the Blue square and move the Luminance slider all the way to the left and Saturation slider all the way to the right.
Step 5 Now play with your normal image adjustment controls, such as Exposure and Enhance to perfect your photo.
Whether you've recorded an image with a digital camera and filter, or emulated the effect in software, infrared imagery gets noticed. Start with the tools that you have, and if it catches your fancy, keep experimenting until you find the perfect workflow for you.
[Senior Contributor and professional photographer Derrick Story teaches photography on Lynda.com and publishes a weekly podcast at The Digital Story.]