When last we visited with the professional rankologists who compile Greenpeace's quarterly Guide to Greener Electronics—for those keeping score at home, that would be October of 2009—Apple had jumped up to ninth place in the list of electronics companies surveyed by the environmental group. The January 2010 rankings, released on Thursday, show Apple gaining ground again, as it leaps into fifth place—and picks up a bit of a bonus.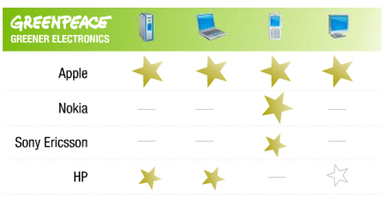 Then again, "leaps" might be putting it a bit strongly. In fact, with a score of 5.1, Apple advanced by a margin of only 0.2 from its previous 4.9 rating. However, several of the companies surveyed by Greenpeace fell in rankings this quarter, most notably Samsung, Sharp, and Sony—indeed, it was not a good quarter to be an electronics company whose name starts with 'S.'
While Apple last year made a big push on this front last year by redesigning the environmental section of its Website, Greenpeace contends that the revamped section in truth provides less information than it previously did. Still, the company continues to earn strong marks for actually shipping products that have abolished the use of toxic materials, unlike many of their competitors who Greenpeace argues are—in the words of legendary rock band Cheap Trick—"all talk."
In addition, thanks to a new Greenpeace rating system apparently appropriated from my kindergarten teacher Ms. Ward, Apple's earned a chart-busting four gold stars for eliminating hazardous substances across the board in its product line, thus ensuring that its next art-class drawing will earn a prime spot on Greenpeace's fridge.
Grenepeace did give Apple a shout-out for ditching the U.S. Chamber of Commerce due to irreconcilable environmental differences, but the organization continues to insist that the company make policy pronouncements that line up with Greenpeace's own agenda. Knowing what we do of Steve Jobs, we imagine that Greenpeace may be in for a wait—on the upside, it can probably save a lot of whales in the meantime.