It's the 21st century—isn't it time to sleep different? iPhone app developer Mobelux thinks so, which is why it teamed up with accessory maker iHome to produce iHome+Sleep, a unique new "social music alarm clock" iPhone app that integrates with a new line of personal stereos.
More than just an alarm that lets you trigger music, iHome+Sleep offers some really interesting features, like "Sleep Cards," which lets you set different alarm templates with their own time settings, sounds, and alerts. You can set advanced alarm repeat intervals like "weekends" or "every other day of the week," and wake up to a list of what your Facebook and Twitter friends were up to while you were snoozing. If you aren't up for socializing first thing in the morning, you can also wake up to headlines from your favorite RSS feeds. You can even create a list of automated tasks, such as auto-posting to Facebook and/or Twitter that you're going to sleep, or reminders to brush your teeth or read before zonking out.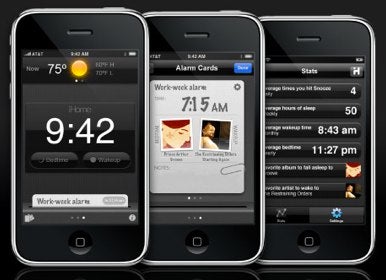 Of course, iHome+Sleep will be able to control a new line of iHome stereos that are iPhone- and iPod-friendly. The first unit that should be available soon, iHome iA5, will allow iHome+Sleep to control things like treble, bass, and even the digital clock. That's right, your parents might finally want to buy iPhones since iHome+Sleep has a "Time Sync" button that means you don't have to fiddle around with setting the stereo's clock. Fortunately, iHome+Sleep can also function by itself, no stereo required, though I'm sure we're all familiar with how fantastic the iPhone's built-in speaker is not for going to sleep and waking up.
One of iHome+Sleep's most interesting features is Sleep Stats, which allows you to view a running record of the times you sleep, naps you record, and average hours of bedtime and per-night sleeping. If you're find yourself dragging and exhausted every now and then, this might be a great way to help track down a possible reason. Think of it like the Nike + iPod Sport Kit, except, you know, for sleeping.
Mobelux just submitted iHome+Sleep to the App Store for approval, and when it gets approved, it'll be a free download. When the first iHome+Sleep-compatible stereo arrives, it will be $100.
Disclaimer: I worked with Mobelux to create Awards, an iPhone app. However, I had nothing to do with their collaboration with iHome or development of this app.