At a Glance
Expert's Rating
Pros
Very nice design
Very good low light performance
Very good image quality
Great flip-out LCD screen
Cons
Lost some nice features from the G10
Rear buttons too easy to accidentally push
Our Verdict
Canon's G-series of advanced point-and-shoot cameras have long held a place somewhere between small point-and-shoots and full-featured SLRs. If you want very good image quality, a full set of manual controls, and high-end features (such as Raw-format photography and an advanced flash system), the G-series has always offered good solutions. The PowerShot G11 continues this tradition, and proves itself to be the most advanced, high-quality, point-and-shoot type camera you can buy.
Packing a high-end feature set into a small package is not easy, and with this iteration, Canon has improved on the camera's predecessor, the PowerShot G10, by scaling back some specs.
Like previous G-series cameras, the G11 is a very sturdy, very attractive small camera bristling with controls and dials. Clad all in black, the camera measures roughly 4.5-by-3.5-by-2, and its rectangular slab design fits easy into a larger coat pocket.
The G11 is fitted with a retractable lens which provides a 35mm equivalent zoom range of 28mm to 140mm, and ranges from a maximum aperture of f2.8 at the wide end to f4.5 at the telephoto. The lens delivers good edge-to-edge sharpness, but it would be nice if it had a maximum aperture of f2, like some previous G-series models. A removable lens cowl allows for wide-angle and telephoto attachments to be added to the camera. These are the same attachments that have been available for many previous G-series cameras.
The biggest physical change to the camera is the flip-out, swiveling 3-inch LCD screen on the rear of the camera. This is a wonderful addition, and a return to a long-lost G-series feature. The swiveling screen facilitates overhead shooting, and makes macro photography much easier. In general, it's a very welcome addition that allows for a lot of freedom when shooting in difficult situations. I found that, even when walking around my neighborhood, the ability to easily position the screen made me try angles and shots that I might not otherwise have considered. The screen can also be folded flat against the back of the camera. The G11's LCD is bright, clear, and beautiful, offering vibrant colors and amazing detail.
Like its predecessors, the G11 also offers an optical viewfinder. Because even the best LCD can be difficult to see in bright light, it's a shame that more vendors don't include an optical viewfinder. The problem is that the G11's optical viewfinder is very inaccurate. Most point-and-shoot optical viewfinders only offer a crop of the final image, usually around 80 percent, and the G11 is no different. However, its crop is not out of the center of the scene, so your final image will have a very different composition from what you see in the viewfinder. This renders the optical viewfinder pretty useless. The LCD viewfinder provides a 100 percent view of your image.
Controls
In general, the G11 follows the same control layout and design as the G10. Canon did a very good job of including dedicated controls for the shooting parameters that you need every day, and have fashioned very nice, mechanical-feeling controls for some functions. A top-mounted mode dial provides shooting mode, and surrounding this is a second dial which allows you to select ISO. A third dial lets you select exposure compensation, with the usual -2 to +2 stops of compensation.
A dial is a lot more fun to use than buttons and a menu interface. You can change dials very quickly, get immediate feedback, and it somehow feels like you're more involved with the camera. And, of course, it's a throwback to the truly mechanical cameras of yore (with "yore" now being only 15 years ago, of course).
The controls on the back of the camera are largely unchanged from previous models. A combination of buttons and a rotating control wheel make it easy to select essential settings. Secondary settings are also quick to change, thanks to the camera's Function menu, which can be activated with a single button press. My only complaint about the camera's rear controls is that it's very easy to accidentally bump one of the rear-mounted buttons and suddenly find yourself in Macro mode.
Features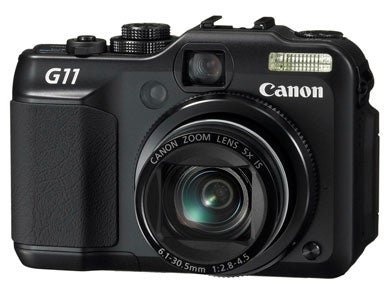 Like its predecessors, the G11 is packed with high-end features. You'll find priority modes, a full manual mode, program shift, Raw format support, and pretty much all of the other features that you'll want if you're hoping to go beyond simple point-and-shoot photography. If you don't feel like you're ready to make a leap toward more complexity, don't worry, because the G11 also has a very capable auto mode that allows you to use it as a basic point-and-shoot. You can activate more features when you feel ready for them.
The G11 is one of the few point-and-shoots to offer Raw mode, making it ideal for the user who wants the maximum amount of editability of the images. If you're an SLR shooter who wants a smaller camera, but doesn't like shooting in JPEG, the G11 is one of the few options.
Unfortunately, Canon has inexplicably decided to eliminate some features that were found on previous G-series camera. There's no more voice memo recording, or ISO shift and, most distressingly, the camera no longer has an intervalometer, which made previous G cameras ideal for shooting time-lapse movies.
Image quality
The 10.0-megapixel G11 delivers very good images. If you're shooting in JPEG mode, you'll find the in camera processing to be very nice, without going too far. Colors are natural, and the images are not oversharpened.
The biggest surprise about the G11 is its excellent high-ISO performance in low light. On previous models, there was no real point in pushing ISO any higher than 400. More than that, and images became unacceptably chunky. But with the G11, you'll get usable results all the way up to ISO 1600. This is one of the reasons why Canon cut the pixel count from 14 megapixels on the G10 to 10.0 on the G11. With fewer pixels, image noise can be kept down as you crank up the ISO. It's still not at as good as what you'll get from an SLR, but you shouldn't really expect that from a compact camera with a tiny sensor.
Macworld's buying advice
The G11 is a camera that will appeal to point-and-shoot users who are ready for more power, control, and quality, but don't want to carry around a camera with the bulk of an SLR. SLR users, meanwhile might want to pick one up as a second camera, for times when it's not appropriate to lug a full SLR kit.
The G11's predecessor, the G10 was already a very good camera, and Canon has done an excellent job of making refinements. The slight control changes, the new screen, and the dramatically improved ISO capabilities make the G11 a great camera. It's a shame that Canon decided to drop some handy software features, but perhaps they did it to have something to add to the G12.
[Macworld senior contributor Ben Long is the author of Complete Digital Photography, fifth edition (Charles River Media, 2009). More of Ben's work can be found at Complete Digital Photography.]