At a lovely suite at the Encore hotel in Las Vegas on Thursday, I got a chance to listen to SRS Labs' new iWow Adaptor for iPhone and iPod touch.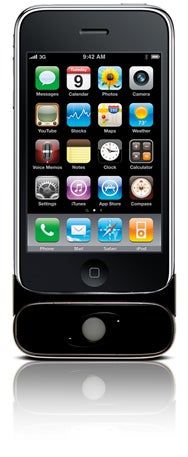 The $79 adaptor, which will be available by the end of January, attaches to the dock connector on an iPhone or iPod touch and works with a free companion iPhone app to enhance the sound of music, videos, and games on your portable device.
The app allows you to personalize the experience with bass and treble adjustments; it also includes a surround sound effect as well as settings for headphones, external speakers, and car audio systems. Because Apple doesn't allow third parties to add dock connectors to its devices, however, all audio output is line-out through a headphone jack located on the adaptor—that means you can't use it with dock-based speakers or car systems that charge and control such devices normally.
In a quick listening test, the adaptor made a pretty significant difference in the richness of the test track—similar to what the company's iWow plug-in does for iTunes. Whether it's worth the extra length it adds to your iPhone is another issue.
The latest SRS accessory joins the older iPod version, which the company has been selling for about a year.
SRS Labs also showed me some Vizio HDTVs that incorporate its TruVolume technology for leveling volume (between a TV show and the usually very loud commercials that interrupt them), as well as a standalone hardware device called MyVolume. The now-shipping MyVolume does that same thing, but sits between any connected set-top box or DVD/Blu-ray player and your HDTV in either analog ($100) or HDMI ($200) versions.
Read more of our coverage of CES 2010.
We edited this post at 3:37 p.m. to correctly state that you can't use the adaptor with dock-based speakers or car systems that charge and control such devices.