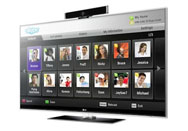 LG Electronics' connected TVs are getting more connections, including support (with the addition of a Webcam accessory) for Skype video calls on many of its new sets. This expands on LG's introduction, last year, of sets with built-in support for video-on-demand services such as Netflix and Vudu. Other new Internet services include Picasa and AccuWeather.
On the technology side, LG will introduce 480Hz refresh rates, doubling the previous high of 240Hz. LG is also working on further slimming down its sets, to as skinny as 6.3mm. And the company will launch a set with a 15-inch OLED display, described as one of the largest to date. Not to be excluded from the 3D bandwagon, LG also announced 3D-ready sets and a 3D projector.
LG has also revamped its remotes, creating a more graphical on-screen interface. Interestingly, however, LG appears to be holding off on aggressive adoption of WirelessHD technology (for cable replacement): Sets will be WirelessHD-ready but won't ship with boxes to complete the connection (last year's sets bundled the pricey boxes)
Read more of our coverage of CES 2010.