E-readers are making a big play at CES this year, and I got to hold and play briefly with two new ones: the Que from Plastic Logic and a preview version of the Skiff Reader from Skiff.
The two are nearly the same size, about the size of a regular sheet of paper, and are focused on almost the same market for business professionals, or, at least, big readers of traditional newspapers and magazines.
The biggest issue for each (and for all e-readers) seems to be how easy the touchscreen features respond to a person's touch to navigate pages in a book, ewspaper or document—or even to make notations with a finger on an article or document.
The Que, which will start selling in April in two versions that cost $649 or $799, uses capacitive touch, while the Skiff, with no announced release date or price, uses resistive touch.
AT&T is providing the 3G network behind the Que, and Sprint is working with Skiff.
My very brief experience holding and using both machines showed me that the Skiff had better and faster reactions to my touch than the Que.
It took a good two seconds to move from page to page in a newspaper on the Que on several tries, but when I tried to circle a paragraph with my finger, the circle appeared almost instantly. However, when I tried to write "This" next to the circle with my finger the resulting image was mangled.
With the Skiff, I could get reactions in less than a second on several tries, and circling and highlighting items were equally fast.
Nearly all the navigation on the Que will be on the touchscreen, which puts a premium on its speed. The delay I noticed could be annoying for an impatient executive, I'd imagine.
The Skiff, meanwhile, has several on-screen navigation buttons on the bottom, and a physical navigation "big wheel" on the left side as well as an up-down physical button.
A Skiff official said the company purposely tried to limit the amount of touches that might be needed, since it can actually get tiring to keep repeatedly swiping a page to move through a book or magazine. That makes sense to me, too.
Skiff isn't even allowing photographs of its device as yet, but it has a white frame around the screen, with a gun-metal back, while the Que is all black and glossy.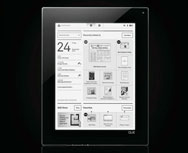 The Que has a 10.7-inch diagonal screen, compared to Skiff's 11.5 inch screen. The Que is .3 inches thick, while the Skiff is .25 inches thick. Skiff CEO Gilbert Fuchsberg claimed the Skiff is therefore the thinnest e-reader and has the largest full touchscreen on the market so far.
Fuchsberg also said a color screen e-reader from Skiff could be ready for shipment by the end of the year. He showed reporters a working prototype of Skiff with a color screen, but the images shown had very dim colors. He admitted the color needs to be brightened before it is ready for production.
It's hard to have an overall impression of both devices with such a short time with them. However, I'm left wondering whether an e-reader using e-ink displays is anything I'd ever want to own, given brilliance of LED backlit screens in laptops and netbooks with many colors.
Also, any e-reader device with even the slightest delay in touch will probably not prove too popular, either, I fear.
Read more of our coverage of CES 2010.
[Matt Hamblen covers mobile and wireless, smartphones and other handhelds, and wireless networking for Computerworld. Follow Matt on Twitter at @matthamblen, send e-mail to mhamblen@computerworld.com or subscribe to Matt's RSS feed.]