If the opening of this year's International Consumer Electronics Show was an episode of Sesame Street, it would be brought to you by the number "3" and the letter "d"—as in 3D technology. Announcements with a 3D flair have come fast and furious in recent days, particularly when it comes to high-definition television.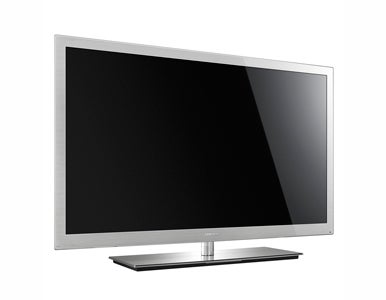 Here's a round-up of the companies making news on the 3D TV front.
Sony emphasizes 3D across all HDTV lines
3D is the big buzz here at CES, and Sony started its press event by exhibiting its commitment to 3D with a live demo of 3D capture and display technology.
Sir Howard Stringer brought Sony Music artist Taylor Swift up on stage to perform her hit "Love Story." As she performed, cameras by the stage captured her outstanding acoustic performance live in 3D, and projected it on the screen.
Already, last year's release of U2 3D has made a compelling case for watching concert performances captured in the 3D. This prospect gets all the more compelling if coupled with the prospect of showing a performer live during the concert. Somehow, I can't help but think this will take some of the sting out of not being able to see the stadium's stage from afar. Those big screen projections will have a whole new meaning.
On Tuesday, Sony announced that it would join Discovery and IMAX, to launch a 3D broadcast channel in 2011.
"We intend to take the lead in 3D," said Stringer, noting the company's experience in the professional capture side and production sides, as well as the roles other Sony division will have in the coming 3D revolution (Sony Pictures Home Entertainment, Sony Music, Sony Network and now consumer angles).
Sony also announced that it would create a 3D technology center at its Culver City studios to educate Hollywood on production techniques; and that it was partnering with CBS to do research into what audiences want from the 3D home experience.
At one point, Stringer joked this was the "CES 3D show," a reference to all of the days' previous 3D announcements from other consumer electronics companies (as we'll see below). And one third of the Sony booth was dedicated to 3D demonstrations.
Sony will release three series of 3D HDTV this summer. The company didn't discuss pricing, but only the top of line NX900 series comes with the necessary transmitter and two pairs of active-shutter glasses (made by Real D). Varying by series, the 3D models will be available in screen sizes from 40 to 60 inches.—Melissa J. Perenson
Panasonic promises 3D plasma HDTVs
As expected, Panasonic's CES press conference dwelt heavily on the company's plans to bring 3D HDTVs mainstream, including model info on five plasma sets slated to ship by midyear, and a Blu-Ray Disc player.
The upcoming full HD (1080p) 3D Viera TVs range in screen size from nearly 50 inches to 65 inches. They include two 50-inch models (the TC-P50VT20 and TC-P50VT25); a 54-inch set (TC-P54VT25); a 58-inch set (TC-P58VT25) and the 65-inch top-of-the-line TC-P65VT25. Each set will ship with one pair of the special glasses required to see content in 3D. Panasonic said pricing would be announced at a later date.
The 3D-enabled Blu-ray Disc player, model DMP-BDT350, will also play standard Blu-ray Discs and DVDs. Again, Panasonic did not offer details on pricing, or a release date.
Panasonic also showed a professional-grade 3D camcorder that filmmakers can use to create 3D content. Officials pointed to the healthy box-office receipts for James Cameron's 3D sci-fi adventure epic, Avatar, as an indication of the public's appetite for 3D content. (Avatar has grossed in excess of $1 billion worldwide in the 17 days since its release.)
Panasonic executives said the product announcements show the company is on track to make good "on pledges made last year to ship 3D home entertainment gear in 2010.—Yardena Arar
Samsung focuses on 3D LED TVs
Samsung Electronics unveiled a strong line-up for CES on Wednesday, including a complete 3D home entertainment system and LED TVs with screens as thin as a pencil.
The company also unveiled its own app store with plans to offer games, movies and software for multiple devices, including TVs and Blu-ray Disc players as well as mobile phones.
The 3D home entertainment system includes high-definition 3D TVs, the BD-C6900 Blu-ray Disc player and an audio system to be sold together or separately. Samsung has also allied with Dreamworks Animation and Technicolor on promoting content for 3D home entertainment.
Jeffrey Katzenberg, CEO of Dreamworks, called Samsung's new 3D LED (light emitting diode) TVs "stunning" and showed off the Blu-ray Disc version of the 3D movie "Monsters vs. Aliens." He said that while studios produced only 10 major 3D movies in 2009, four of them were among the top 10 films of the year.
Samsung's 3D home entertainment center will be available later this year. The company did not have price information. People interested in stand-alone 3D high-definition TVs, however, will not have to wait so long. The company has built 3D capability into a range of new flat-panel TVs due out soon.
The LED TVs with 3D capability include Samsung's LED7000 series and above, plasma TVs in the 7000 series and above and 750 Series LCD TVs. For people who want to watch regular 2D television shows in 3D, Samsung has included a 3D chip with auto-conversion technology that renders 2D content into 3D in real time.
The company also sells active shutter 3D glasses.
Samsung also showed off its thinnest LED TV ever on Wednesday, the LED9000 series, which is just 0.3-inches (7.6mm) thick. When a Samsung worker turned the big-screen TV sideways, cheers came from the audience at the CES press conference.
Samsung's LED TVs turned out to be a surprise hit for the company last year, with 2.5 million sold globally. Samsung forecast it will sell 10 million this year. LED backlights have replaced CCFL (Cold Cathode Fluorescent Lamp) backlights in many LCD TVs. LED offers better color saturation and power savings than CCFL technology.
Samsung also used its CES conference to announce its own app store. The Samsung Apps store is already up and running on the Web but apps for TVs won't be available until July, according to the Samsung Apps Web site.
The company hopes to attract software developers with an open developer program and an SDK (software developer kit).
"If you think it's fun to develop apps for a 3-inch screen, let me show you this 55-inch LED TV," said Tim Baxter, president of Samsung Electronics USA.—Dan Nystedt
Dan Nystedt of IDG News Service contributed to this report.