Editor's note: The following article is reprinted from the Today @ PC World blog at PCWorld.com.
Olympus tossed its hat into the ring at CES with a handful of point-and-shoot camera announcements. The company's new Stylus models include a ruggedized, HD-video-shooting Stylus Tough camera and several pocketable high-zoom models.
Two new 7X-optical-zoom pocket cameras (the Stylus 7040 [pictured below] and the Stylus 7030) will be available in early 2010. Both cameras will have a zoom range of 28mm to 198mm. Olympus also announced the Stylus 5010, a slimmer, 5X-optical-zoom model that offers a bit more room on the wide-angle end (26mm to 130mm).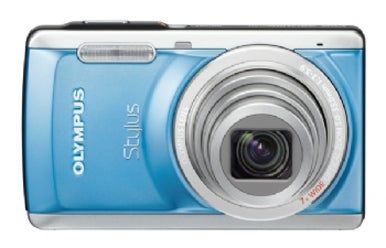 All three cameras also sport some nice in-camera extras, including dual sensor-shifting/digital image stabilization, autofocus tracking for moving subjects, and a range of art filters that simulate hand-drawn pictures, fish-eye effects, and 1960s pop art.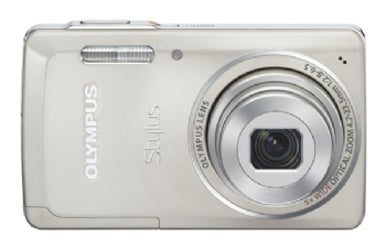 The Stylus 7040 and Stylus 5010 (pictured above) add 720p HD video recording to the mix, along with a dedicated record button and HDMI-out. All three cameras are slated for February release; the Stylus 7040 is priced at $250, while the Stylus 7030 and Stylus 5010 will each go for $200.
Olympus also announced a new addition to its shockproof/freezeproof/waterproof Stylus Tough line.
The 12-megapixel Stylus Tough 3000 is the first of Olympus's rugged cameras to shoot 720p HD video; it also has a dedicated recording button and an HDMI port. The 3.6X wide-angle zoom lens ranges from 28mm to 102mm, bolstered by dual sensor-shift/digital image stabilization.
Like Olympus's previous Stylus Tough models, the Tough 3000 lets you operate the camera by tapping its sides. This is designed to facilitate use of the camera while the shooter is wearing gloves or swimming underwater. The Tough 3000 is rated to withstand usage down to 10 feet underwater, at temperatures down to 14 degrees Fahrenheit, and after drops of as much as 5 feet.
In-camera features include Intelligent Auto mode, panorama stitching, and a range of art filters for creating real-time effects in each shot. The Stylus Tough 3000 is due in February for $230.
Read more of our coverage of CES 2010.