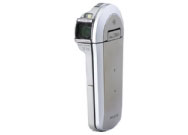 Editor's note: The following article is reprinted from the Today @ PC World blog at PCWorld.com.
At CES, three new HD pocket camcorders have surfaced, all of which do things a bit differently.
The most full-featured (and somehow the thinnest) of the three is the Sanyo Xacti VPC-CS1, which shoots 1920-by-1080 HD video at 60 interlaced fields per second (1080i) and also takes 8-megapixel still photos.
The inch-thick, pistol-grip-style camcorder boasts digital image stabilization, and has a flip-out LCD screen for composing shots. It saves videos as MPEG-4 H.264-codec files. Its card slot is compatible with both SDHC and SDXC cards.
The Sanyo VPC-CS1 will sell for $300, starting in February.
In addition to the new ability to shoot 1080p video at 30 frames per second (or 720p video at 60 fps), Sony's Webbie HD pocket camcorder line has a new name for 2010.
Though the Sony Bloggie HD MHS-PM5 features the same 270-degree rotating lens as its predecessor does, it offers a built-in USB connector for offloading clips (rather than a separate USB cable), fewer physical buttons (to simplify shooting), and the ability to play clips in landscape mode on its 2.4-inch LCD screen.
But there's another big difference from last year's Webbie model: The new pocketable Sony HD camcorder is compatible with SD/SDHC cards, ending the Memory Stick-only era for Sony. The media card slot can handle both storage formats, and the camcorder saves footage as MPEG-4 video using the H.264 codec.
The Sony Bloggie HD MHS-PM5 is available immediately, for $170.
Anyone looking for an HD pocket camcorder to bring along on snowboarding and swimming excursions now has a durable, waterproof option in the Kodak PlaySport. The new Kodak camcorder is waterproof down to 10 feet underwater, and it has bigger buttons to ease operation while you're wearing mittens.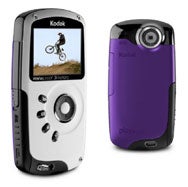 Sharing some of the same specs as the excellent Kodak Zi8, the PlaySport shoots digitally stabilized 1080p video, takes 5-megapixel stills, and saves photos and video to SDHC cards. The package also includes an HDMI cable for watching your clips on an HDTV directly from the camera. Unlike the Zi8, it doesn't offer a mic-in port or a macro/landscape toggle.
Kodak's PlaySport is due in the spring for a very reasonable $150.
Read more of our coverage of CES 2010.