Editor's note: The following article is reprinted from the Today @ PC World blog at PCWorld.com.
At a splashy press event here at CES in Las Vegas, Toshiba trotted out its latest and greatest HDTV, the Cell TV, with its companion media center set-top box.
The TV boasts a number of significant leaps forward in picture performance, driven by a new proprietary eight-core processor Toshiba calls its Broadband Engine.
Toshiba says that gives the Cell TV ten times the processing power as most personal computers, and 143 times faster than most LCD TVs on the market today.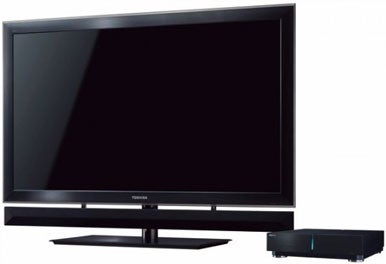 So what does all that processing power mean to the person on the couch? The biggest thing, perhaps, is 2D to 3D conversion. The TV takes everything from 2D gaming and home video, processes it, fills in missing pixels, and turns it into video that looks like 3D.
In terms of resolution, the TV uses its processing power to up-convert all video to 1080p 3D. The TV also connects to the Internet to receive net video sources like VUDU and Netflix; it applies noise canceling technology to that content to clean up the noise and image distortion that can be present in net video.
Toshiba says the Cell TV cranks out far more brightness than any other TV, and feature 512 different zones that separately adjust black and white levels as you watch.
The Cell TV contains sensors that analyze the light in the room, and automatically sets the contrast, brightness and other levels. This isn't new, but the sensor can now detect the color of the room–the "color temperature" — and adjust the picture accordingly.
The Cell TV set-top box will include a 1 terabyte hard drive for video storage, and a build-in Blu-ray disc player. The device will organize all the video content on the home network and will communicate wirelessly with other devices in the home using 802.11n and DLNA.
Form factor-wise, the Cell TV will come in 46-, 55-, and 65-inch models, all of which feature a sound bar below the screen.
No pricing information is available yet, and the first Cell TVs should begin showing up in stores in the third or fourth quarter of 2010, according to a Toshiba rep.
Read more of our coverage of CES 2010.