Between bites of grilled cheese (made with white Wisconsin cheddar, thank you very much) and sips of Diet Coke, I had a chance to talk to some of the companies at CES's annual ShowStoppers press event at the Wynn hotel.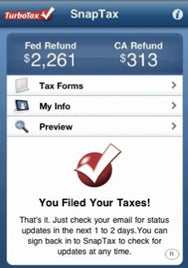 I got to talk to Iomega about its ScreenPlay Director media server, and see the Boxee Box in person—the media set-top box is much smaller than the pictures had lead me to believe.
But one surprising find was the Intuit table in the corner. The business and accounting software company was showing off its upcoming TurboTax SnapTax iPhone app, which lets you take a picture of your 2009 W-2 and then uses OCR (optical character recognition) technology to import the data into the app. From there, you can review the information, answer a series of questions, see what kind of refund you (hopefully) have coming to you, and then file your state and federal tax returns directly from your iPhone.
There are a few catches: this first version of the iPhone app, which should be in the App Store on January 15 for $10, only works for California returns; you can only use it if you have a simple tax return (filing a 1040 or 1040EZ, say); and you must have an iPhone 3G or 3GS to run it.
But if it turns out you're not eligible to use it—your tax situation is more complicated than it can handle, for example—Intuit will refund your purchase price or offer you a $10 discount on the purchase of TurboTax software.
This YouTube demo from Intuit should give you an idea of how SnapTax works: