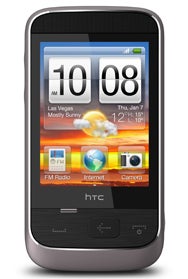 Handset maker High Tech Computer announced plans to release a smartphone that uses Qualcomm's Brew MP operating system instead of either Windows Mobile or Android.
The HTC Smart is designed to be more user-friendly and less expensive than other smartphones, the company said, although it did not release a price for the handset.
At first glance, the Smart bears a close resemblance to its larger and more powerful cousin, the Nexus One, an Android handset that HTC is manufacturing for Google. Like other handsets sold by HTC, the Smart includes the company's Sense user interface, which users can customize.
Other features of the handset include a 2.8-inch touchscreen and support for WCDMA (Wideband Code Division Multiple Access) networks.
The Smart will be released in Asia and Europe during the first part of this year, HTC said. The company didn't disclose whether it plans to release the phone in the U.S.