At a Glance
Expert's Rating
Pros
Lightweight but solid build
Images are sharp and have good color
Cons
Viewfinder doesn't protrude enough
LCD can be hard to read in bright light
Our Verdict
Think of Nikon's D3000 as the smaller cousin of the long-standing models it replaces. With the D3000, Nikon improves on its previous entry-level model (the Nikon D40 [ ]), refining the design and adding a slew of features that make the D3000 a great choice for point-and-shoot owners looking to explore the digital SLR world.
The 10.2-megapixel D3000 adopts much of the design of its predecessor. The D3000 weighs only a smidgen more than the older model, at just over a pound. But that's still light enough that I could carry the D3000 for a week in my tote bag, and I easily forgot that it was in there. Though lightweight, the D3000 feels substantial in its build—the only letdown is its flimsy-feeling SD/SDHC card door. In all other respects the D3000 offers just what Nikon enthusiasts have come to expect, namely solid design and attention to detail.
One of the first noticeable improvements is in the autofocus system, which Nikon has upped to an 11-point focus system (along with center-weighted and averaging modes). The autofocus sensor also handles 3D tracking, so it can track an object even if the shot's composition changes.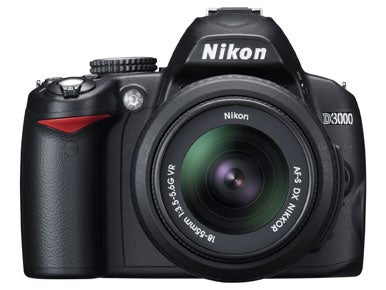 Have an arsenal of legacy Nikon lenses? The D3000 will fully support AF-S and AF-I models. You'll find that you can use several older Nikon lenses, though without autofocus support. Unfortunately, any IX and AF Nikkor owners hoping to hook those lenses to the D3000 are out of luck.
My biggest complaint lies with the camera's viewfinder: It doesn't protrude quite enough from the camera to keep your nose from greasing up the LCD screen. This is a fairly minor quibble, however, considering that the viewfinder is bright and clear (and offers 95 percent coverage, as on the Nikon D5000 and D60). The LCD is similarly easy to read and allows you to zoom in and out on photos, though at 230,000 pixels, this screen is not as sharp as you would expect on a more-expensive camera. I found that images were a bit more saturated on the LCD than on my color-calibrated computer monitor, and that the LCD was sometimes difficult to read in bright light. Fortunately, the D3000 offers in-camera controls over color balance and saturation, should you care to tweak those settings before transferring your photos.
The D3000 offers a bounty of features, including a new help feature that quickly educates novices on the basics of photography, such as throwing a background out of focus or capturing a moving subject. You can, of course, opt for the usual settings on the mode dial, which include Manual, Aperture/Shutter Priority, Landscape, Portrait, and Sports. The D3000 throws in a bit of fun with in-camera filters and interesting effects such as soft focus and color tints, as well as a stop-motion video creator.
Other features to grow into include RAW and RAW+JPEG formats, white balance and color balance customization, exposure compensation, in-camera sharpening, and Active D-Lighting, a now-common feature in Nikon cameras that truly works to rein in highlights and expand shadow detail. In my hands-on experience, this expanded dynamic range improved shadow detail more than it controlled the brightest highlights. I also found that chromatic aberration popped up along high-contrast edges, with bits of magenta and blue glowing a little in my test shots. However, that slight defect was no worse than what I've seen from other cameras in this low-cost class.
On my test jaunts in outdoor light, the D3000 produced good, natural color, though a little on the cool side; I remedied that by using the Warm mode. My photos were generally sharp, and the autofocus was fast and accurate. The lens did hunt a bit in low light, certainly not uncommon for an entry-level camera.
Though the ISO performance was not outstanding, it was quite acceptable at speeds of 400 or less. Starting at ISO 400, noise began to appear in shadowed areas, and photos taken at speeds above that showed more marked deterioration, as one would expect. The D3000's Hi setting (basically an ISO of 1600 pushed to ISO 3200) was not particularly impressive or useful. Even so, it is nice to have the ability to capture nighttime street shots that you just can't pass up, however crunchy they might turn out. Night shooters will also appreciate the D3000's bulb setting (a wireless control is available separately).
The D3000 provides a lot of value for your dollar, though you should consider what you don't get at this price. Step up to the D5000 ( ) or D90 ( ) to get more megapixels (12.3 megapixels) and video recording. The D5000 also has a handy tilt-out LCD screen, which makes capturing many creative shots easier.
Macworld's buying advice
Overall, the Nikon D3000 is a worthy successor to the company's D40 and D60, especially considering its improved metering modes and larger LCD. As a first investment in a digital SLR, the D3000 is a good choice for consumers looking for an affordable, reliable, well-constructed camera that produces consistently good results under everyday conditions.
[Melissa J. Perenson is a senior editor for PC World.]