Samsung is showing four new e-readers in its booth at the International Consumer Electronics Show, two more than it announced at a press conference earlier this week.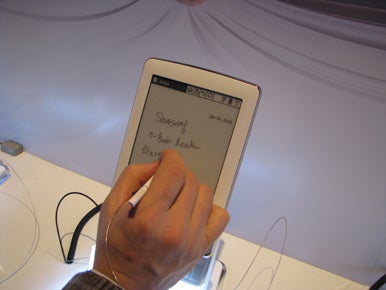 Besides the E6 (6-inch) and E101 (10-inch touchscreen) e-readers announced Wednesday, both of which can be used for note taking and drawing in addition to reading, Samsung also has a smaller 5-inch model and a 6-inch model with a QWERTY keypad for thumb typing. Both e-readers also have touchscreens and the same handwriting capability with built-in electromagnetic resonance (EMR) stylus pens.
An engineer at the Samsung booth said the 5-inch device and 6-inch one with QWERTY keypad will both be launched in March or April, months ahead of the E6 and E101 models, which are both due out in July.
He did not know the prices of the as-yet-unannounced e-readers.
The Samsung E6 will retail at $399, while the larger E101 will cost $699.
Samsung signed a deal with Google to offer e-books from Google's library of over 1 million volumes. E-books can be downloaded wirelessly on the devices via Wi-Fi 802.11b/g signals or sharing content with other devices with Bluetooth 2.0. The two new Samsung e-readers can run for two weeks after charging, the company said. They are also equipped for wireless.
Read more of our coverage of CES 2010.