Drawing upon the design aesthetic of its Arc Mouse ( ), Microsoft at CES has unveiled the Arc Keyboard, a stylish and compact wireless keyboard.
Measuring 12.2 by 6.1 inches and weighing less that a pound, the Arc Keyboard is flat along the sides and the front of the keyboard. It rises along the top center, so that your hands are closer to a natural position when typing.
"The design tenets that we looked to for the Arc Keyboard were simplicity and crisp softness, creating an aesthetic for this product that is casual and sophisticated at the same time," said Microsoft's Monique Chatterjee in a statement.
The keyboard has six F keys; if you want to implement F7 to F12, you'll need to press the Fn key. There are volume keys, but no keys for controlling iTunes playback. Some Mac users may be put off by the Windows key, and you'll probably have to remap in the System Preferences the Arc Keyboard's Ctrl, Windows, and Alt keys on the lower left to match the traditional Ctrl-Option-Command key layout on the Mac.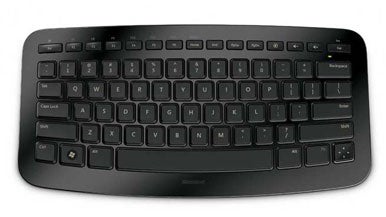 The keyboard uses 2.4GHz RF wireless technology, not Bluetooth, and requires a USB transceiver (included) that can be stored underneath the keyboard.
The Arc Keyboard is compatible with Mac OS 10.4 or later. It will be available exclusively at Best Buy in February for $60.
Read more of our coverage of CES 2010.