iLounge, the Web site devoted to the iPod and iPhone has taken its show on the road—specifically the iLounge Pavilion at the International Consumer Electronics Show. Hosting more than 100 vendors, stretching three aisles, and spanning the breadth of the Las Vegas Convention Center's North Hall, the iLounge Pavilion is where I spent the bulk of Thursday. The Pavilion, in addition to being a good place to find iPhone, iPod, and some Mac products gathered in a single area, was enlightening in that it underscored the make-up of today's iPhone and iPod market.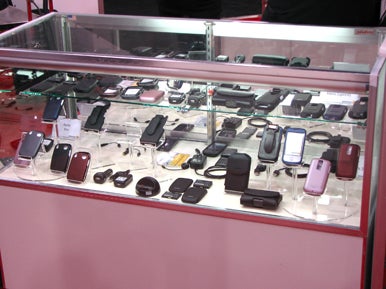 To begin with, although a variety of products were on display in the various vendors' booths, there were a lot of cases—vendors selling cases included Case-Mate, EasyHood, Fruitshop, Hard Candy Cases, Helium Digital, Incipio, , IvySkin, Otterbox, and Tunewear. Interestingly, however, the vast majority of these cases were for the iPhone and iPod touch. I saw only a handful of cases for the iPod classic, nano, and shuffle.
I spoke with one vendor who had been selling iPod cases for years who confessed that interest in cases for "traditional iPods" had fallen off to the point where his company simply wasn't going to make them any longer. Other vendors said they were still selling cases for these iPods but that they were devoting the bulk of their energy to the iPhone and iPod touch. Apple is shy about detailing exactly how many specific iPod units it sells each quarter, but if these vendors are any indication, interest in accessorizing traditional iPods is on the wane.
Going hand-in-hand with new cases were earbuds as fashion accessories. I saw a lot of earbuds that sported colorful exteriors. And when pitching these earbuds, that's what you heard about—their look. The subject of how they sounded was rarely broached.
Power accessories were also popular. Again, many were designed with the iPhone in mind. Dexim, for example, was showing off its $55 P-Flip Foldable Power Dock, a folding dock that includes a 2000mAh Lithium Polymer battery. Macally, Griffin Technology, and XtremeMac were also offering external chargers for iPod and iPhone. Although many of these products were compatible with traditional iPods as well as the iPhone and iPod touch, vendors specifically mentioned lengthening the charge of an iPhone's battery. And, even more specifically, citing the advantage of using such an external battery on a long-distance flight when you want to watch video as you fly and still have a charged phone when you land.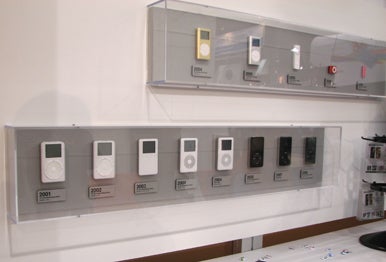 The Pavilion offered more than a collection of case vendors. Microvision, for example, showed off its $500 iPhone-compatible pico projector. Etymotic Research and Westone were on hand with their professional headphones. Alpine Electronics offered looks at its iPod/iPhone compatible auto systems. And the iLounge booth featured a nostalgic look back at the history of the iPod by creating display cases that included a version of every iPod model released by Apple.
Read more of our coverage of CES 2010.