Battleship has finally come to the iPhone, and it's making a splash. Electronic Art's adaptation of the classic board game combines varied game modes with superb graphics and cut scenes to create a winning experience.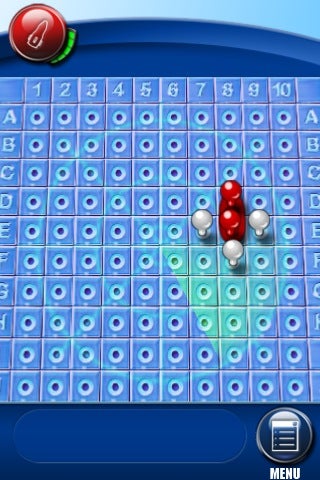 Battleship for the iPhone brings with it two new types of Battleship gameplay: Salvo and Superweapons. In Salvo, you get to fire one shot for each ship you have afloat (so you start out with five shots). In Superweapons, you get to choose four weapons (three, in addition to your standard shell) with different properties and "charge times." (Example: "Chain Gun" delivers five shots in a line, but has a charge time of "slow," which means you must wait five turns to use it.)
If you're not feeling these newfangled types of Battleship play, there is, of course, the Classic game mode. You'll get to arrange your ships, and shoot one shell at a time—though you may have underestimated just how long it takes to play a game of Battleship. While most iPhone games focus on short playing sessions, Battleship is perhaps best suited for longer spells of gameplay.
One of the coolest little touches on the iPhone Battleship game is the cut scenes—whenever you make a move, a different cut scene plays, depending on what happens (either you hit the water, you hit a ship, or you sink a ship). They're short and sweet but add some liveliness to the game. You can click through them (or turn them off altogether) if you're in a hurry.
There are three different ways to play with a friend—Bluetooth, Wi-Fi, and "pass and play." You can play any of the three game modes, and even choose a tournament style (either a single game, best of three, or best of five) to give you even longer play sessions.
The downside of Battleship for the iPhone is there isn't an option to choose a more challenging computer in single player mode. Additionally, the Wi-Fi can be touchy in multiplayer mode (and gameplay is not saved if you're kicked off of the Wi-Fi), and there is no internet multiplayer mode. Hopefully, these shortcomings will be addressed in a later update.
Otherwise, the graphics are great, the sound effects are cool, and it's awesome to see your buddy's ship go down in flames. If you have any affection (or even just nostalgia) for the classic board game at all, I'd say this game is definitely worth the $3.
[Sarah Jacobsson knows you'll never sink her battleship.]