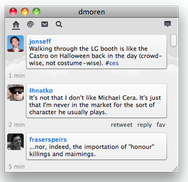 Mowglii, developer of the iPhone app Worm, has just released Itsy, a free Twitter client for the Mac.
And, indeed, "itsy" says it all: the app is streamlined and compact in both form and function. Like many of its rival Twitter clients, Itsy includes a timeline, search capability, and support for mentions, which are integrated into the timeline, and direct messages.
Itsy doesn't provides built-in notifications, instead eschewing them for support for the Growl framework. For those who must know the latest topics being tweeted, note that Itsy does not offer access to trends.
When you want to follow someone, or make other changes to your Twitter account, Itsy opens up Twitter in your browser of choice. A particularly nice feature, given Itsy's slim profile is the option of displaying images from services like yfrog and TwitPic right in your timeline.
If you're the kind of person who doesn't want Twitter constantly taking over your entire computer, Itsy may be just what you're looking for.
[via Smoking Apples]